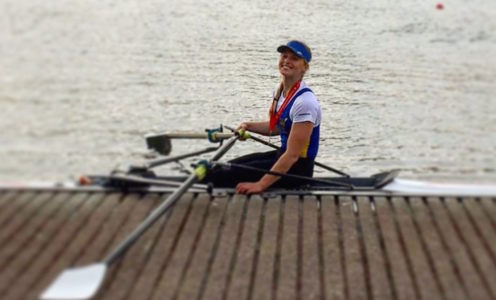 Student rowers in the University of Bath Boat Club enjoyed a successful visit to the BUCS Regatta in Nottingham, coming home with three medals.
Management Masters student Steph Clutterbuck, supported by a Santander Sports Scholarship, won a superb silver in the women's single scull championship class.
It was a great weekend for the novices as both the men and women's coxed fours earned podium places. Their respective bronze and silver medals were the first won by Crew Bath in the beginners class for six years.
Edward Crabb, James Driver, Joe Hill, Conor McGoldrick and Ben McMahon were in the men's crew, while Hannah Slater, Ella Shilliday, Kimberley Ertl, Zara Mulholland and Ella Flanagan contested the women's race.
Mulholland, like Clutterbuck, is part of the GB Rowing Team Start Programme at the University, coached by Dan Harris. Another member, Matrix Scholar Laura Macro, finished just off the podium in the championship class after fine displays in both the lightweight women's single and the double with Carlotta Broglia.