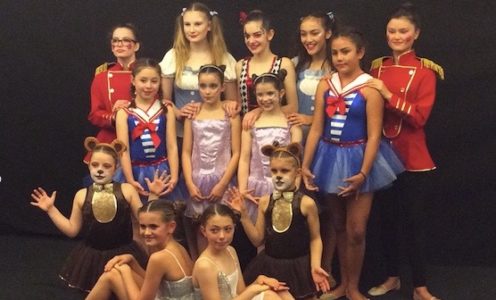 City of Bath Rhythmic Gymnastics Club are celebrating after wowing the crowds at this weekend's Gymfusion Midlands at the Regent Theatre, Stoke-on-Trent.
The event had a 'dream' theme and featured an array of gymnastics routines performed by squads from all over the country.
In the only rhythmic gymnastics discipline at the show, the Bath club enthralled the audience with a complex and delightful routine using ribbons, balls, clubs and hoops based on the dream of a toy box coming to life.
It was beautifully choreographed by Sarah Dennis, Head of Display and Badge Classes, who said: "The girls were all wonderful and gave a brilliant performance."
The display squad of girls aged between eight and 14 demonstrated a fresh and magical combination of rhythmic gymnastics, dance and stage performing.
Club Chair Sarah Moon, who is currently coaching the British Rhythmic Team, added: "I am really proud of the energy, enthusiasm and dedication that Sarah Dennis and the squad put in to this performance. It provides a wonderful and accessible opportunity for girls to enjoy all the best parts of gymnastics without the competitive side."
City of Bath, who train at the University of Bath Sports Training Village, are always looking for gymnasts of all ages and abilities to join the display and competitive squads.
Classes are run for beginners from the age of five right through to Elite competition squads. For further details, visit http://www.cityofbathrhythmic.com/ or email Sarah Dennis on bath.rhythmic.recclass@gmail.com.
Pictured are (back, left to right) Frances, Lauren, Grace, Vanessa, Anna, (middle row) Saki, Lily, Emily, Thea, (front row) Sophie-Mae, Cleo, Ellie and Eva