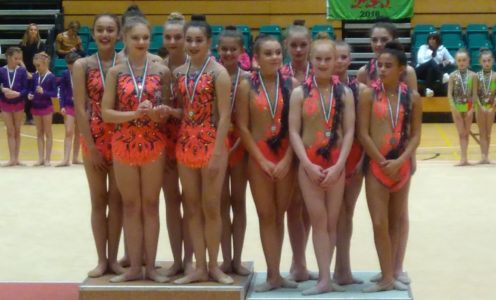 City of Bath Rhythmic Gymnastics Club came away from this weekend's Welsh Group Invitational competition in Cardiff with gold and silver medals after impressive displays against six other leading national clubs.
The Junior group of Amelia, Evie, Jasmine, Molly, Vanessa, and Kristina produced a fantastic performance to win the overall title in their competition.
City of Bath's Espoir group – consisting of Elena, Elisabeth, Elle, Kashvi, Pelagia and Rosie – competed in the free routine and hoop, winning silver overall despite tough competition from Welsh clubs Llanelli and Deeside.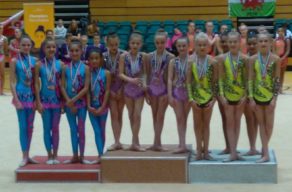 Club Chair Sarah Moon, who is currently coaching the British Rhythmic Team, said: "I am really proud of the commitment and dedication our girls put in to their training and how much they have achieved."
City of Bath, who train at the University of Bath Sports Training Village, are always looking for more gymnasts of all ages and abilities to take part in the badge classes, display and competitive squads.
Classes are run for beginners from age five right through to Elite competition squads. Visit http://www.cityofbathrhythmic.com/ for more information or email Sarah Dennis on bath.rhythmic.recclass@gmail.com.