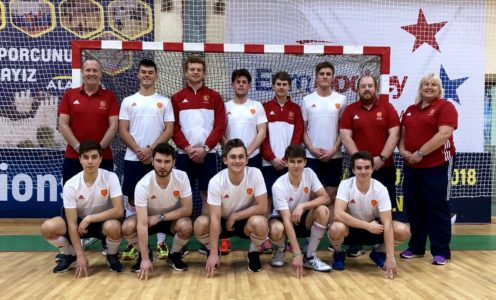 University of Bath sporting scholar Peter Scott gained more international experience over the weekend as he represented England at the EuroHockey Indoor Championships.
Wins proved elusive for England at the event in Turkey, with Croatia overturning a 2-0 deficit to win the opening match 3-2 and Sweden scoring a last-minute penalty corner to draw 4-4 in the second.
England were also edged out 3-2 by Italy, then fought back from 3-1 down to draw 3-3 with the host nation before losing 6-3 to Portugal to finish ranked eighth overall.
While the results were frustrating, it was another step on the international ladder for Sports Performance student Scott (pictured front right) – he made his senior debut last year and also trains with the England squad.
Supported by a Trendell Sports Scholarship, Scott – who plays for both the University and Team Bath Buccaneers – was also named as the University of Bath Sports Personality of the Year at the 2017 Blues Awards.