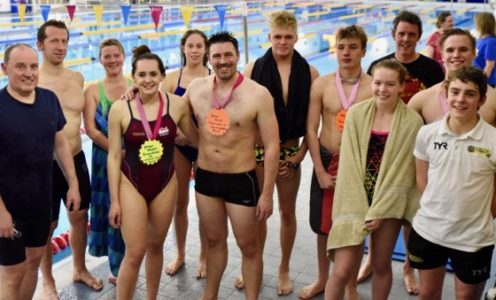 Team Bath AS raised the roof on Friday night as coaches, parents, swimmers, friends and families united to stage a Dream Team Relay to raise more than £700 for Sport Relief.
The Dream Team was made up of Head Coach Chris Alderton, former GB swimmer Tilly Gray and the team's Strength and Conditioning Coach, Mike Muckelt. One squad swimmer was also recruited to the Dream Team via a draw, with the lucky swimmer on the night being Performance Squad member Ethan McNeil.
The Team Bath AS Squad Swimmers then stepped up to challenge the Dream Team in a 4x50m Medley Relay in the London 2012 Legacy Pool at the University of Bath, with swimmers again being drawn at random from the squad.
The four names out of the hat were Lydia Crawford (13), Arthur Bown-Mazzoni (15), Miles Farrington (15) and Laura McNab (16). With the selected team having only minutes between finishing training and deciding on strokes and tactics for their race, they stepped up stoically to face the challenge to the rousing support of their team-mates and the assembled crowd.
However, the build up to the event didn't stop there. As swimmers completed their Friday night training before the race, the gauntlet was thrown down to Team Bath AS parents on social media to compete in the Relay too. After rapid phone calls, kit sharing and speedy trips to the pool, a Parent Team of Helen Ward, Guy Roberts, Mike Wood and Jamie McNeil assembled poolside just minutes before the start to the amazement of both coaches and swimmers.
As donations poured in, the race got underway. The Dream Team were victorious in a time of 2:05:37 with the Squad Swimmers coming in a close second in 2:08:87. The Parents then swam home to the biggest cheer of the night in a time of 2:39:40.
The Dream Team Relay was organised by Team Bath AS volunteers to raise funds for Sport Relief. Donations currently stand at £720 – more than twice the original target – but there is still time to donate via the Team Bath AS Giving Page – http://bit.ly/2GLiwXL.