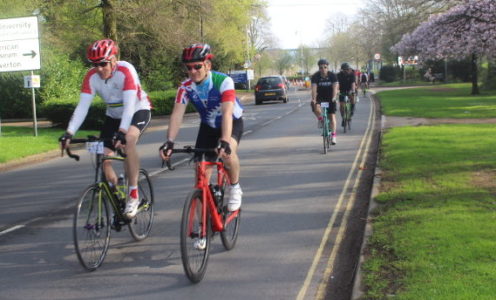 More than 100 cyclists enjoyed a sunny Sunday cycle through Somerset as they took part in a successful first-ever Team Bath Sportive.
Entrants from as far afield as London, Cardiff and Devon joined local club and recreational bikers for the organised 102km ride from the University of Bath Sports Training Village to Glastonbury and back again.
Around 30 more cyclists took on a shorter 50km route, with all who took part in the non-competitive event enjoying the warm weather and supportive atmosphere.
Avon Valley Cyclery, based in Bath's Brunel Square, provided free mechanical support for the entrants, many of whom took the opportunity of a post-cycle sports massage for a donation to University of Bath students taking part in the annual Zambia IDEALS project.
Among the cyclists were group from Axe Valley Pedallers, based in East Devon, and Roding Valley Triathlon Club in Essex. Other cycling clubs taking part included Bath CC, Eastgate Cycles, Frome Cyclones, Frome & District Wheelers, PAC-Tri, Salt & Sham CC, Straight Outta Corsham CC and Velo Club Walcot.