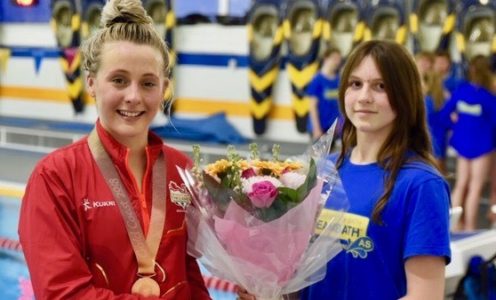 Gold Coast 2018 Commonwealth Games champion Siobhan-Marie O'Connor returned to her roots as she visited Team Bath AS swimmers during their training at the University of Bath on Friday to show them her 200m individual medley gold medal.
Swimmer Katie Butcher was chosen to present flowers to O'Connor on behalf of the team, congratulating the British Swimming National Centre star on her latest international success.
Olympic medallist O'Connor has trained at the University of Bath since she was a child, first as part of the Team Bath AS programme before being selected in 2011 for the elite training squad headed by Dave McNulty.
"The Team Bath AS youth and age group performance programme is very dear to my heart," she said. "Without it I would not have had the opportunity to progress to the National Centre and would therefore not have made London 2012.
"It's always great to come back and show my support to the next generation coming through the programme at the University of Bath."