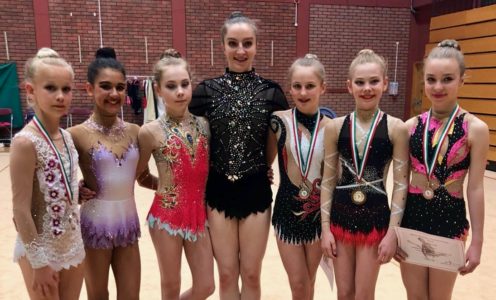 City of Bath Rhythmic Gymnastics Club warmed up for their home Bath Open at the University of Bath Sports Training Village by enjoying a successful visit to the Welsh Championships in Cardiff.
In the Level 3 section, Elle came away with a silver in Junior Clubs and Lola won bronze in the U12 Ribbon as she finished second overall in her age group. Sarah did some outstanding routines in her Senior category and was rewarded with a silver medal.
Kashvi won the overall Level 4 Junior section on Saturday, ensuring she qualified for the Level 4 and Level 5 combined Junior finals on Sunday together with Rosie, Elena and Elisabeth. In the finals, Elena and Elisabeth won silver and bronze respectively for their Ball routines and Rosie finished fourth in the Club final.
All focus now turns to the Rhythmic Gymnastics Bath Open event, taking place at the STV on Saturday and Sunday (June 2-3).
To find out more information about joining the club, please visit www.cityofbathrhythmic.com or email bath.rhythmic.recclass@gmail.com.