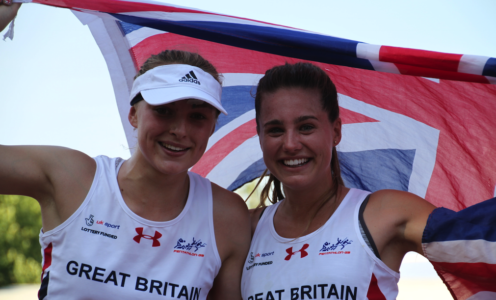 University of Bath student Charlie Follett teamed up with Zoe Davison to win women's relay gold after a supreme display at the Junior European Modern Pentathlon Championships in Barcelona.
Follett, who studies Psychology, and Davison were in the top two places throughout the day, retaking the lead after a perfect display in the horse-riding arena and not looking back after a dominant display of front running in the laser run.
It continued a fine season for both athletes, with Davison claiming silver at the Milan Kadlec Memorial and Junior British Championships over the past two months and Follett finishing in bronze medal position at both of those events.
However, this topped those competitions and it was also the first major international medal for both girls, marking a significant step in their modern pentathlon careers.
Click here to read a full report on the Pentathlon GB website (external link).
The University of Bath has been home to Pentathlon GB's National Training Centre for the past 20 years, with many athletes – including Olympians Samantha Murray, Kate French and Joe Choong – combining their sport with study. Click here to find out more.