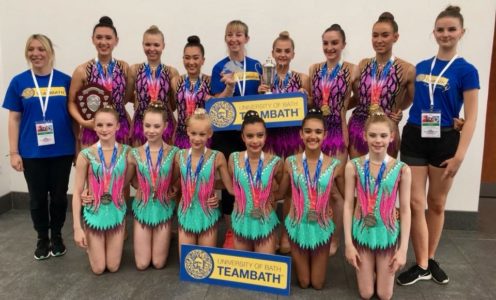 Team Bath Rhythmic Gymnastics' Senior Girls produced an incredible hoop routine to win a well-deserved gold medal at the British Championships.
Tiola Gleeson, Selina Brown, Lola Cockburn Marsh, Evie Coles, Sarah Dennis and Lottie Wittich performed exceptionally across the weekend to earn a combined score of 21.8 and be crowned as All-Round British Champions for 2018.
They were fourth after an opening day that saw the group produce a passionate rope and ball routine to score 10.300.
However, just 1.2 points separated them from top spot and Team Bath ensured they would strike gold on Sunday as their hoop routine scored 11.5.
It was an enjoyable and emotional moment for all involved, with Evie competing in her first British Championships and Lola at her last before she starts university.
Team Bath's Junior Girls were equally amazing in their commitment and performance as they took silver in the All-Round Junior Elite category. They also won silver for a superb clubs routine and bronze for a complex and beautiful ribbon set.
Elena, Elisabeth, Elle, Kashvi, Rosie and Pelagia – all aged between 12 and 13 – demonstrated how commitment and enthusiasm to training delivers.
Club Chair Sarah Moon said: "The Team Bath Rhythmic Gymnastics coaches and I could not be more delighted or proud of our girls – they produced such a strong, powerful and graceful demonstration of what these young women are capable of.
"We look forward to supporting these girls all the way and inspiring the younger groups that are coming up after them."
Sunday's action was broadcast by BBC Sport and is available on catch-up by clicking here.