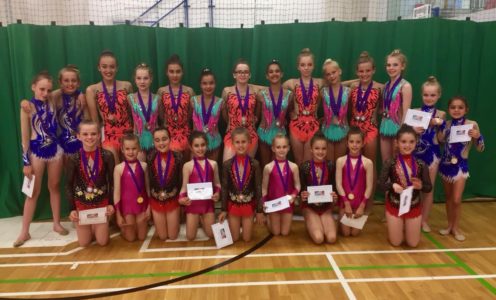 Five groups from Team Bath Rhythmic Gymnastics competed at the i-star Academy Butterfly Cup in Brighton over the weekend, each of them coming home with medals.
In the U8s section, called the Caterpillar Cup, Team Bath's pink group of Ayana, Diana, Emily, Nicole and Patricia came home with a gold medal for their delightful ball routine. Also in the novice section, the blue group of Annie, Chloe, Megan and Myla performed their uplifting ball routine to gain another gold medal. For both of these groups, this was their first competition away from home, so a massive achievement for all.
Competing in the Level 4 (National level) U12 section, the red group of Beatrice, Emily, Eva, Hannah and Lily performed their exciting ball routine with lots of energy and enthusiasm to earn a brace of bronze medals for the highest score and overall competition.
The orange group of Frances, Lola, Rosa, Vanessa and Vlada competed in the Level 4 Junior section. Their very dramatic clubs routine secured a silver medal for highest score and bronze overall.
Elena, Elisabeth, Kashvi, Pelagia and Rosie from the Junior White group competed in the Level 5 section, following on from their recent success at the British Championships. They delivered an accomplished clubs routine and an exhilarating, crowd-pleasing ribbon routine, bringing home a further three bronze medals for these two routines and the overall competition.
Team Bath Rhythmic Gymnastics has classes for beginners from the age of five right through to Elite international competition squads. Click here to visit their website or email bath.rhythmic.recclass@gmail.com for further details.