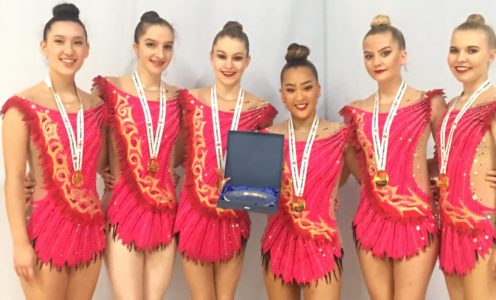 There was plenty of home success to celebrate when the University of Bath Sports Training Village hosted the 2018 English Rhythmic Gymnastics Championships.
Team Bath Rhythmic Gymnastics Club's Senior group added the overall English champions title to their British crown, while the Junior group – full of confidence after winning gold at their first international competition in Bulgaria – also took the national title having won silver at the British Championships.
Selina, Tiola, Sarah, Evie, Sophie and Lottie made up the successful Seniors (pictured top), performing a golden Hoop routine and securing silver in both Rope and Ball to clinch the overall title.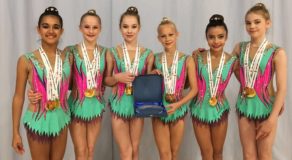 The Junior team of Elena, Elle, Elisabeth, Kashvi, Pelagia and Rosie – the latter having won the individual title in Bulgaria – delivered an amazing Ribbon routine to become English champions with a Gold and also won Clubs silver.
The youngest Team Bath qualifiers, the Espoir group, competed for the first time at the English Championships and finished an excellent tenth overall, with Hannah, Emily, Eva, Lily and Beatrice of the Espoir Red Group performing a wonderful Ball routine and an uplifting free to the Ghostbusters theme tune.
Individually, Sophie, Elena and Rosie all performed beautiful routines on the Saturday, with Sophie becoming a finalist in Senior Hoop and Elena in Junior Ribbon in the final.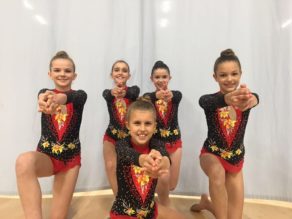 Club Chair Sarah Moon said: "It is a testament to the quality of the club that all three age groups qualified for the English Championships with two groups gaining gold. It really demonstrates that you can be both an inclusive club for everyone and an elite club at the top of its game. The coaches, parents and I are very proud of all the girls involved."
To find out more information about joining the club, with classes for beginners from the age of five right through to Elite international competition squads, please visit www.teambathrhythmic.com or email bath.rhythmic.recclass@gmail.com.