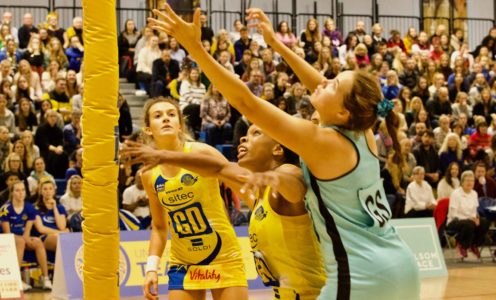 Team Bath Netball provided a festive flourish to their pre-season preparations when they won their annual tri-tournament with two excellent displays in front of their home fans – and a watching live audience on BBC Sport.
The Sitec-sponsored Blue & Gold looked in good shape ahead of the 2019 Vitality Superleague season as they followed up a 40-34 victory over Surrey Storm with a 46-32 defeat of benecosMavericks in the winner-takes-all third match at the Team Bath Arena.
Mavericks edged out Storm 48-46 in between those matches as all three teams served up an early Christmas treat for netball fans during a thoroughly entertaining afternoon.
It is the fourth successive year that Team Bath have won their pre-season tournament and co-captain Eboni Usoro-Brown was delighted that all 13 players in the Blue & Gold squad were able to play key roles in the victory.
"We're really pleased and we can take great confidence from the way we played in both games into the season," she said. "Every single player got on court, every single player contributed and some of our play today was phenomenal.
"Thank you to each and every one of the fans who came to watch today, it was great to see such massive support. We hope to see them packing out the stands throughout the 2019 season."
Fellow Commonwealth champion Serena Guthrie, who was making her first appearance in Blue & Gold at the Team Bath Arena since returning a stellar spell in Australia and New Zealand, added: "It was good to get our final run-out going into the Christmas break. We've been working hard in training so to go out there today and see how we measure up in match-play was good.
"I love Bath, it's a beautiful place, and I've missed it so it's nice to be back. We have an awesome team and we're trying to get over the line this year after just falling short in the semi-finals so it's great to be a part of that journey."
The tone for the afternoon was set during an entertaining opening match between Storm and the home side, who came out on top 40-34 in front of an 871-strong Team Bath Arena crowd and those watching online via BBC Sport.
They went goal for goal during a first quarter that finished all square at 10-10 and it was a similar story in the second period, with the teams locked at 18-18 before new Australian shooter Kim Commane notched three goals without reply to give Team Bath the advantage at the break.
Guthrie, who captained England during the recent test series victory over Uganda, was among a number of players introduced during a tight-fought third quarter that saw the hosts open up a 30-24 lead.
Storm were playing well, though, and cut the gap to two during the early stages of the final period but accurate shooting from Beryl Friday and Sophie Drakeford-Lewis helped the Blue and Gold – who gave all 13 players a run-out – pull away and secure the victory.
There were a number of familiar faces on court for the second match of the afternoon, with Mavericks featuring Corbin sisters Sasha and Kadeen – both former Team Bath players – and University of Bath Natural Sciences student Tash Pavelin in their starting line-up against a Storm squad featuring Bath graduates Yasmin Parsons and Nicole Humphreys.
Storm started brightly but Mavericks quickly found their stride to lead 10-7 at the end of the first quarter before extending their advantage to 22-16 with a fine performance in the second period.
Both teams contributed to an action-packed third quarter that saw 29 goals scored in ten minutes and Mavericks lead 37-30.
Storm may have been playing their second successive game but they continued to perform with great energy and won the final quarter 16-11 to cut Maverick's margin of victory to 48-46.
That meant the final match between Team Bath and Mavericks would be decisive, and the home side were clearly determined to get the overall win as they produced a superb performance in the opening quarter.
They were dominant right across the court as they stormed into an 11-4 lead, with Usoro-Brown and Summer Artman – facing her former franchise – forging a strong defence with Imogen Allison.
Guthrie and Rachel Shaw were dynamic in mid-court, providing great service for the attacking duo of Drakeford-Lewis and Commane who have already struck up a slick combination.
Mavericks made a bright start and finish to the second period, scoring five goals without reply at one point, but Team Bath were shooting well and a goal on the buzzer from Drakeford-Lewis made it 21-14 at the interval.
Both teams rang the changes for the third quarter, with Guthrie returning at centre and Leila Thomas, Abi Robson, Amanda Varey and Friday coming on for the hosts. All had a huge impact on the game as Team Bath extended their advantage to 35-22 with another excellent display.
Laura Rudland and Mia Ritchie came on in the final quarter to help the Blue & Gold pull even further clear and wrap up a 46-32 victory.
Team Bath Netball Head Coach Jess Thirlby said: "It's a bit of a cliché amongst coaches but one of the key things we look for is consistency and it was really good to see us not lose any of our eight quarters.
"We can be proud of our performances today and thank you to Mavericks and Storm for providing such great competition."
Season and match-day tickets are on sale now for the 2019 Vitality Superleague campaign, with the first match at the Team Bath Arena – on Monday, January 28 – also involving Surrey Storm.
The season begins on Saturday, January 5 with a Super 10 event at the NEC in Birmingham featuring all of the Superleague franchises, starting with Team Bath's match against Celtic Dragons at 11am.
Team Bath Netball are sponsored by Sitec and supported by partners Mogers Drewett, Soldi and Netball South West. Centurion Chartered Financial Planners are supporting the team's performance analysis and people development capabilities, Viper 10 are their Sportswear Supplier and Skins provide the team with compression wear.
Today's squads
Team Bath Netball: Imogen Allison, Summer Artman, Kim Commane, Sophie Drakeford-Lewis, Beryl Friday, Serena Guthrie, Abi Robson, Mia Ritchie, Laura Rudland, Rachel Shaw, Leila Thomas, Eboni Usoro-Brown, Amanda Varey.
benecosMavericks: Karyn Bailey, Steph Collard, Kadeen Corbin, Sasha Corbin, Beth Ecuyer Dale, George Fisher, Lindsay Keable, Georgia Lees, Gabby Marshall, Lauren Nicholls, Tash Pavelin.
Surrey Storm: Mikki Austin, Sigi Burger, Jessica Dale, Rhea Dixon, Emily Gulvin, Yasmin Hodge England, Katy Holland, Nicole Humphreys, Lorraine Koweleska, Laura Morton, Yasmin Parsons, Alima Priest.
Today's scores
Team Bath v Surrey Storm: Q1 10-10. Q2 21-18 (11-8). Q3 30-26 (9-8). Q4 40-34 (10-8).
benecosMavericks v Surrey Storm: Q1 10-7. Q2 22-16 (12-9). Q3 37-30 (15-14). Q4 48-46 (11-16).
Team Bath v benecosMavericks: Q1 11-4. Q2 21-14 (10-10). Q3 35-22 (14-8). Q4 46-32 (11-7).