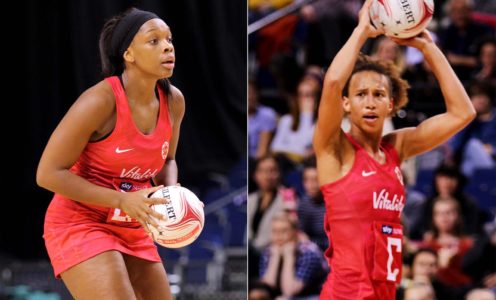 Team Bath Netball co-captains Serena Guthrie and Eboni Usoro-Brown have been named in a 12-strong England Roses squad for this summer's Vitality Netball World Cup in Liverpool – with Guthrie selected as captain.
Both played key roles in last year's historic Commonwealth Games success for the Roses and Blue & Gold Superleague Head Coach Anna Stembridge believes they can add another gold medal to their collection when the tournament takes place from July 12-21.
"It's very exciting that Eboni and Serena have been selected for the World Cup – and a home World Cup at that," said Stembridge, who was England Head Coach from 2011-2015.
"I feel extremely privileged to have worked with Eboni and Serena at both Team Bath and England, and I'm extremely proud of them. They have both demonstrated that not only are they great players but they are wonderful leaders and that will add so much value to the squad.
"When I was in the England set-up, the long-term goal and strategy was to be gold-medallists at a home World Cup in 2019 and I think it is such a fantastic opportunity.
"There are some seasoned athletes in the England squad and I genuinely believe they will win the gold medal. I think they will do themselves proud and their country proud."
Centre Guthrie and defender Usoro-Brown both started their Superleague careers with Team Bath and then gained valuable experience in Australia and New Zealand before returning to the Blue & Gold.
They boast more than 170 caps between them and were part of the England squads that won bronze at both the 2011 and 2015 World Cups, in Singapore and Australia respectively.
England, who are currently second in the world rankings behind Australia, are looking to claim their first-ever World Cup title with their previous best being silver in 1975.
Joining Guthrie and Usoro-Brown in the England squad, coached by Tracey Neville, are former Team Bath players Rachel Dunn, Layla Guscoth and Geva Mentor.
Other former Blue & Gold stars to have been selected for the World Cup are Zan Vimbele, Karla Pretorius and Lenize Potgieter for South Africa, and Vangelee Williams for Jamaica.