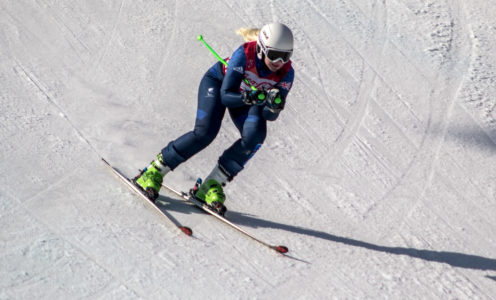 Visually-impaired alpine ski champion Kelly Gallagher MBE will return to the University of Bath today (Tuesday) to receive an honorary degree as the summer award ceremonies begin at the city's Theatre Royal.
Kelly graduated from Bath with a degree in Mathematics in 2006 and went on to make history as the winner of Britain's first winter Paralympic gold medal at the Sochi 2014 Winter Games.
She competes in all five alpine disciplines (slalom, downhill, combined, giant slalom and super-G) and holds nine world championship medals.
At the 2019 World Para Alpine Skiing Championships in January she won a silver medal in downhill and bronze in both the super-G and combined disciplines.
Kelly competes in the B3 category for participants with less than 10 per cent functional vision, skiing with a sighted guide at speeds regularly reaching 75mph. She combines skiing internationally with working for the Northern Ireland Statistics and Research Agency in the Census Office.
After graduating from Bath, Kelly returned to Northern Ireland to work as a statistician in the civil service. She began to seriously pursue her hobby of para alpine skiing while still working fulltime, and in 2008 won a place on the British team's development squad. She made her international competitive debut in 2009, and the following year in Vancouver became the first athlete from Northern Ireland to compete at the Paralympic Winter Games.
Speaking ahead of the ceremony, Kelly said: "I am delighted to be conferred the honorary doctorate from the University of Bath and I am glad to celebrate with the summer graduates at the University. I know from my time at university that studying for your degree can be equally the most enjoyable times in life and the most challenging. Therefore, I encourage all the students to be proud of what they've accomplished so far and keep seeking and striving to find their passion in life, with the hope that they'll find happiness whether that is in academia, industry, sport or some unknown path, yet to be discovered."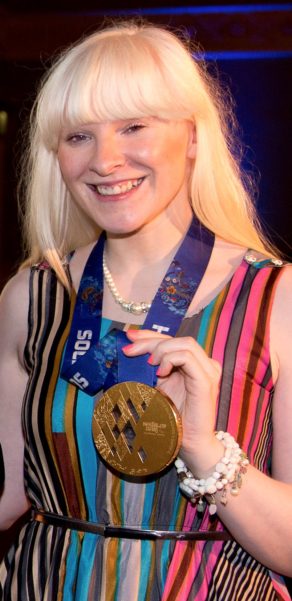 Alongside her athletic achievements, Kelly has a passion for helping others with disabilities to realise their potential, evident in her time as a student at Bath. Her experience of studying with a visual impairment and her determination to make it easier for other students in the Department of Mathematical Sciences kickstarted a major transformation of support services in the department which is still benefitting students today – providing mathematics students with accessible typed lecture notes where needed.
Dr Emma Cliffe was a PhD student while Kelly was in her final year and worked with her on making course information accessible. She is now Head of the Mathematics Resources Centre (MASH), which helps students across the University with maths and statistics on their course, as well as supervising the provision of accessible notes to maths students.
Speaking about Kelly's impact at the University she said: "Kelly's experience and her articulation of what was needed for visually impaired students triggered the accessible notes project in the mathematics department meaning they are now available to all disabled students in the department. Without Kelly I am fairly certain that the project would never have started. MASH has developed national level expertise and we regularly advise maths departments at other institutions on how to get started."
Dr Tim Rogers, from the University's Department of Mathematical Sciences, will say in Kelly's oration: "Every year the University of Bath confers a number of honorary degrees to 'individuals of conspicuous merit'. Some are sporting heroes who have won at the highest level of competition. Some are inspirational role models who show what successes are possible for those affected by disability. Some are alumni of Bath who have left an indelible impression on our institution and changed it for the better. Kelly Gallagher is unique in being all of these things."
In 2014 Kelly received an MBE in the Queen's birthday honours for services to visually impaired sport and was shortlisted for the BBC Sports Personality of the Year. She was awarded an Honorary Blue at the University's Students' Union's Blues Awards in the same year. She is a patron of the charity Ski 2 Freedom and supports the work of other charities including the Royal National Institute for Blind People and Sightsavers, campaigning for inclusion of young people with visual impairment in education and sports clubs.
She was appointed by the United Nations High Commissioner for Human Rights as an Ambassador to raise awareness throughout the world of the human rights violations of individuals with albinism.