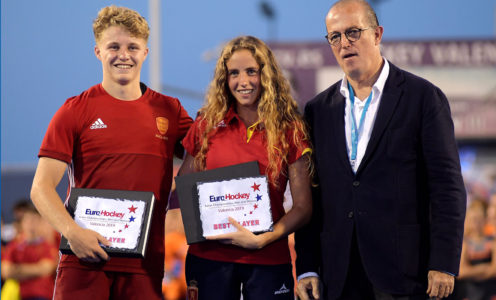 University of Bath sporting scholar Tim Nurse was named as the Best Player of the Tournament after helping England Hockey U21s to a silver medal at the Junior EuroHockey Championships in Valencia, Spain.
The Sports Performance student, supported by a King Sporting Scholarship, and Team Bath Buccaneers colleague Stuart Rushmere were part of an England team that successfully negotiated the group stages by beating Poland and drawing with Belgium and the host nation.
That guaranteed a place at the 2021 Junior World Cup but England were not done there and booked their place in the final by beating the Netherlands 4-3 in an entertaining semi-final.
Rushmere was on target in the final but Germany proved too strong as they ran out 5-3 winners, although England did score twice in the last minute to finish the tournament on a battling note.
Meanwhile, Team Bath Buccaneers Ladies player Sophie Hamilton was part of the England Women U21 squad at the Championships that narrowly missed out on 2021 Junior World Cup qualification after a shootout defeat to Russia.
PICTURE CREDIT: WORLDSPORTPICS / Frank Uijlenbroek