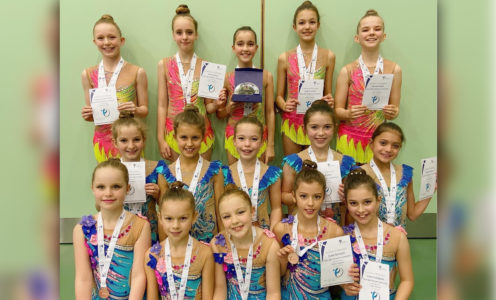 A triumphant trip to Scotland saw Team Bath Rhythmic Gymnastics secure a host of gold medals at the National Level 3 Finals in Edinburgh.
In the Espoir category, Team Bath's blue group of Delilah, Eva, Emily, Emily and Megan took home gold for their fabulous ribbon routine, placing them third in the overall league.
Also in the same category the gold group of Chloe, Patricia, Sophie, Diana and Ayana performed another beautiful ribbon routine to finish third in the competition.
Competing in the Junior category, Team Bath gymnasts Beatrice, Hannah, Lily, Annie and Phoebe performed an outstanding ribbon routine putting them in first place in the competition. Due to their amazing performances throughout the season, they also came out on top in the league and brought home two shining gold medals.
Find out more about Team Bath Rhythmic Gymnastics, one of many community sports clubs based at the University of Bath Sports Training Village, by clicking here.
Report by Penny Cross.