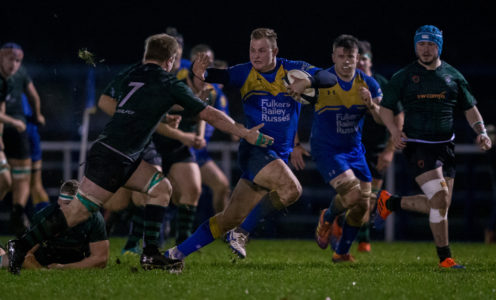 Team Bath men's 1st XV were unable to find a way through Exeter's well-drilled defence as the visitors took the spoils in an attritional BUCS Super Rugby derby.
There were no tries from either side on a wet Wednesday evening at the University of Bath Sports Training Village, with the only points coming from the reliable boot of Exeter fly-half Harry Bazalgette.
He slotted over six of his seven penalty attempts to secure an 18-0 victory, with the battling home side – sponsored by Fulkers Bailey Russell – ruing a number of missed opportunities to get on the scoresheet in the second half.
Team Bath Head of Rugby Aaron James said: "We had some chances to score and we're frustrated we didn't take them but Exeter made fewer mistakes on the night.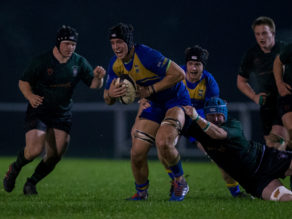 "The reason we didn't score two or three tries tonight was as much down to ourselves, and we're disappointed with that, but there were positives to take. We were missing some players but a lot of guys stepped up from the 2nd XV this week and they fitted in well.
"We'll keep going at it and we're looking forward to hosting Northumbria next week."
The first half was played in heavy rain and predominantly a midfield battle, with neither team able to put pressure on the opposition line.
Exeter did manage to force four penalties in the difficult conditions, all of them slotted over by Bazalgette, while Tom Pittman was just off target with his solitary effort at the other end as the visitors took a 12-0 lead into the break.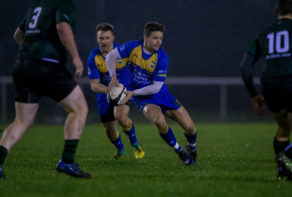 The only other moment of note came in the 14th minute when the hosts, already without their Bath Rugby Academy players ahead of this weekend's Bath United fixture, lost both captain Jordan Martin and prop Tom Rowland to injury.
Bazalgette added another penalty two minutes into the second half but it was Team Bath who finally put together a sustained spell of pressure, setting up camp on the Exeter line for nearly ten minutes.
They forced a series of penalties and lineouts but the visitors – despite losing centre Kieran Kelly to the sin-bin – were able to stand firm and eventually cleared their lines.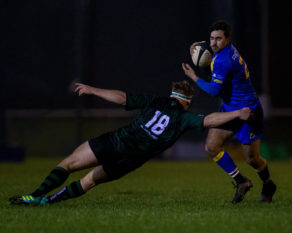 Team Bath continued to battle away, producing a couple of incisive line breaks to set up good attacking positions, but they were unable to make the most of them and it was Exeter who sealed the points when Bazalgette kicked his sixth penalty of the evening.
Team Bath's home run continues next Wednesday (December 4) as they entertain Northumbria in the third of four successive matches at the Sports Training Village. Kick-off is 6.30pm and admission is free.
Match stats
Team Bath starting XV: 15 James Richardson, 14 Alex Varney, 13 Cal Barrett, 12 Sam Kennaugh, 11 Elliot Bancroft, 10 Tom Pittman, 9 Jacob Tansey; 1 Tom Rowland, 2 Jordi den Hartog, 3 Will French, 4 Jordan Martin (c), 5 Edoardo Balocco, 6 Gwilym Bradley, 7 Chris Barry, 8 Cameron Keys. Replacements: 16 Rory Mead, 17 Joe Atkins, 18 Alex Curtis, 19 James Fitzmaurice, 20 Tom Williams, 21 Benn Morris, 22 Miles Gilbert, 23 Doug Hickling.
Exeter starting XV: 15 Charlie Davies, 14 Jordon Bond, 13 Kieran Kelly, 12 Joe Elderkin, 11 Luke Mehson, 10 Harry Bazalgette, 9 Will Yarnell; 1 Will Cutbill, 2 Harrison Fowke, 3 Matt Johnson, 4 Jamie Yates, 5 Lasha Jainia, 6 Paul Schroter, 7 Charlie Fethney, 8 Tom Addison. Replacements: 16 Ben Phillips, 17 George Strainge, 18 Fin Richardson, 19 Alex Roper, 20 Cam Bullard, 21 Pietro Di Chio, 22 Carl Morgan, 23 Tommy Foot.
Penalties: Bazalgette 6.
Referee: Alan Chandrachud.
Assistant referees: Jeff Highcock, Fred Spong.
Fourth official: James Maby.
Attendance: 150.