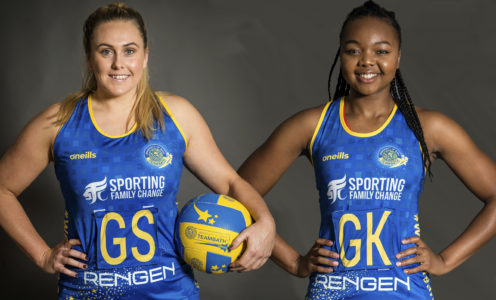 Australian shooter Kim Commane and England Roses defender Summer Artman have been named as Team Bath Netball captain and vice-captain respectively for the 2020 Vitality Superleague season.
Commane has been a hugely influential figure since joining the Blue & Gold for the 2019 campaign, with Superleague Head Coach Anna Stembridge impressed by how she slotted seamlessly into the Blue & Gold culture.
"Kim is a natural leader who demonstrates the values and behaviours we want in this environment," said Stembridge.
"She really leads by example with her selfless attitude. From the first day she arrived, her mantra has been 'whatever the team needs me to do I'll do, whatever the team needs me to be I'll be'. That's how Kim works and we all love her."
Vice-captain Artman also knows the Team Bath playing environment inside out after progressing through the Blue & Gold talent development ranks to become one of the country's finest defenders.
"I love working with athletes like Summer, who are so driven and determined to set high standards on and off the court," said Stembridge. "They demand the most from their environment, their coaches, their team and themselves, which keeps you on your toes and makes you accountable in delivering the best you can week in week out."
Team Bath start their Superleague campaign on Saturday (4.15pm) when they face old rivals Loughborough Lightning as part of the ten-team Season Opener event at Arena Birmingham, which is being shown live on Sky Sports.
The #BlueAndGold start their #VNSL2020 campaign against Loughborough Lightning tomorrow (4.15pm) and @kimcommane cannot wait to run out in front of a record-breaking crowd at @ArenaBirmingham for the big #SeasonOpener 💙💛

Read more: https://t.co/F4jCCYUOJy pic.twitter.com/ZWs3RBlJqg

— Team Bath Netball (@TeamBathNetball) February 21, 2020
Commane, the first overseas player to captain Team Bath, has set on her sights on silverware this season, saying: "I really want to win a Superleague title over here, that's my goal at the moment.
"I also want to enjoy my netball and push the younger players coming through. I didn't have a lot of people that could push me where I came from, so I want to give those experiences to younger players coming through."
Team Bath Netball is partnering with local charity Sporting Family Change in 2020 to help make a difference through sport. Centurion Chartered Financial Partners are Team Bath's people development partner and Rengen Developments also support the netball programme as part of their overall partnership with Team Bath.