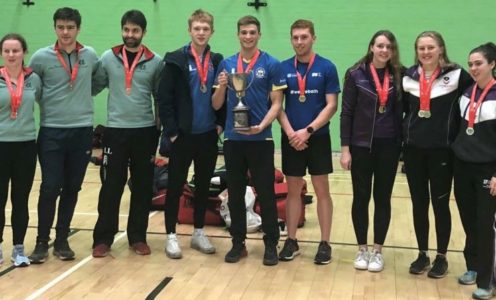 Sporting scholar Bradley Sutton struck individual and team gold as University of Bath student-athletes recorded impressive results at the 2020 BUCS [British Universities & Colleges Sport] Pentathlon Championships in Oxford.
After finishing runner-up in both 2018 and 2019, Sports Performance student Sutton – supported by a Santander Sports Scholarship – finally topped the podium in the men's competition after solid performances across all five disciplines including the fastest time in the swimming pool.
His winning total of 1,434 points was 23 clear of fellow Sports Performance student Joshua Hood, who took the silver medal. James Wilton, who studies Mechanical with Automotive Engineering, was fourth overall as Bath A took the team title.
Bath B placed just outside the team medals following fine performances from Monty Podger, Guy Anderson and Toby Price, who finished fifth, 12th and 13th overall in the individual rankings.