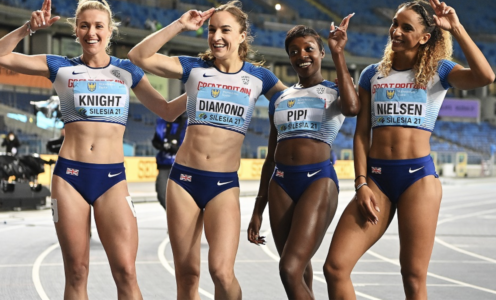 Olympic and world medallist Emily Diamond was part of the GB quartet who took bronze on the second and final day of the World Athletics Relays in Poland on Sunday (2 May).
Diamond ran an assured third leg for the team, maintaining the lead she inherited form Ama Pipi who held off the chasing pack in the final few metres.  Coached by Benke Blmokvist, Diamond – who trains every Friday at the University of Bath and represents the Bristol and West club – maintained the margin over the rest of the world as she handed the baton to Jessie Knight.
Knight held on until the final 120m when the pressure told as Gomez of Cuba and Klaver of Netherlands hit another gear to pass the Briton who held on for bronze in 3:29.27.
The performance in Poland was GB's best since 2015 and meant that GB earned a place at the 2022 World Athletics Championships in Oregon, USA.
Report detail and screen-shot photo: Courtesy of British Athletics.