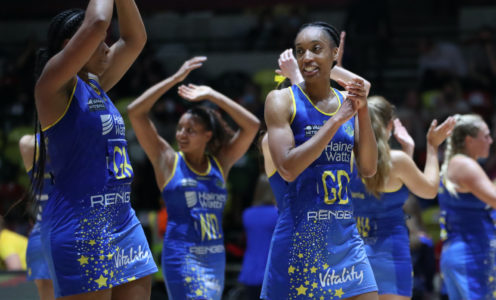 Team Bath Netball are through to their first Vitality Superleague Grand Final for eight years after coming out on top in a magnificent contest against Manchester Thunder at London's Copper Box Arena.
A sensational semi-final saw the Haines Watts-sponsored Blue & Gold battle back from an early deficit to edge the first quarter 12-10. Inspired by some phenomenal defending, relentless drive from mid-court and clinical attacking, they increased the gap to three goals at half-time but couldn't shake off a dogged Thunder side as the two old rivals went blow for blow in a match of the highest quality.
Tensions were rising in the final quarter as Thunder closed to within one goal and had possession but a crucial turnover from Rengen Player of the Match Serena Guthrie prevented them from getting back on level terms. That proved to be the decisive moment as Team Bath were able to edge clear once again in the closing stages, seeing out a 41-38 victory that sets up a Grand Final showdown with Loughborough Lightning on Sunday (5pm centre-pass).
Team Bath Netball Superleague Head Coach Anna Stembridge said: "We are absolutely delighted, it was a real gutsy performance but one we would expect from each other. Thunder were resilient and tenacious but we just said to the players about staying calm, keeping the ball moving and having the confidence to do what we do well. We saw a much more disciplined Team Bath both in attack and defence today."
Eboni Usoro-Brown added: "In the changing room just now everyone had a big smile on their face and this is what we've been working towards. We have been preparing all year for the opportunity to play in the Final, today was another stepping stone towards that and tomorrow is when we put all the hard work, sacrifices, commitment and belief we have generated over the season out there."
🗨️ "Reaching the final is a dream come true but we've got one more big challenge to come."#BlueAndGold star @Sophie__DL is buzzing after that incredible #VNSL2021 @netballsl semi-final but focus is already turning to Sunday's trophy showdown with Loughborough Lightning 💙💛 pic.twitter.com/jtSioddekd

— Team Bath Netball (@TeamBathNetball) June 26, 2021
Fellow co-captain Kim Borger said: "I'm absolutely buzzing and so proud, I just knew going into that game that we were ready and we were going to bring it. We've still got more in the tanks and we're ready to go again."
Attacking partner Sophie Drakeford-Lewis added: "It was an absolutely mammoth game. Thunder ran us for the entire 48 minutes and I'm so proud that we were able to push over the line. Our defence brought it from the start and our job was just to get the ball through the net because they were on fire."
Rengen-backed Team Bath went into the game on the back of successive league defeats and found themselves 3-0 down to a Thunder side who had won their last seven matches of the season. However, the determination from not just the players on court but those providing vocal backing from the bench was clear to see as the Blue & Gold worked their way into the contest. Imogen Allison epitomised their approach with a dynamic, all-action performance and she forced some terrific turnovers which Borger and Drakeford-Lewis capitalised on clinically.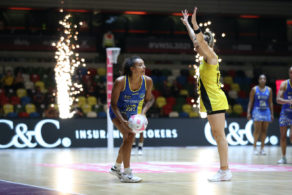 A run of five unanswered goals put Team Bath ahead for the first time and they took a 12-10 advantage into the second quarter.
With Layla Guscoth and Usoro-Brown in inspired form in defence and Rachel Shaw tirelessly finding space to provide several good feeds at the other end, Team Bath continued to narrowly have the edge but Thunder were not going anywhere and there were just three goals separating the teams at half-time.
A physical, feisty third quarter saw the teams continue to trade blows, with Team Bath occasionally looking like they might pull clear before Thunder reined them back in, and the match remained on a knife-edge going into the last 12 minutes.
Guthrie's interception on the edge of the Thunder circle with the scores at 33-32 proved to be the key moment as instead of being pegged back to all square, Team Bath were instead able to restore a two-goal cushion and they went on to see out an epic victory.
🗨️ "So many emotions – I'm so proud of them, I just knew going into the game that we were ready and we were going to bring it."

Here's what #BlueAndGold co-captain @kimborger11 had to say after today's #VNSL2021 @netballsl semi-final thriller against Thunder… pic.twitter.com/Ev7cTpApHD

— Team Bath Netball (@TeamBathNetball) June 26, 2021
The Grand Final against Lightning starts at 5pm and can be watched live and for free on Sky Sports YouTube.
Team Bath Netball is supported by its Principal Partner, chartered accountants Haines Watts, who are also a pathway partner, and by Rengen and Centurion Chartered Financial Planners. O'Neills are Team Bath's official kit supplier and 2XU are their compression wear suppliers.
Match stats
Team Bath Netball starting 7: GS Kim Borger, GA Sophie Drakeford-Lewis, WA Rachel Shaw, C Serena Guthrie, WD Imogen Allison, GD Layla Guscoth, GK Eboni Usoro-Brown. Replacements: Summer Artman, Tash Pavelin, Abi Robson, Kirsty Harris, Betsy Creak.
Manchester Thunder starting 7: GS Joyce Mvula, GA Eleanor Cardwell, WA Caroline O'Hanlon, C Amy Carter, WD Laura Malcolm, GD Emma Dovey, GK Kerry Almond. Replacements: Rebekah Airey, Elia McCormick, Berri Neil, Lois Pearson, Ella Standring.
Quarter scores (Team Bath first): Q1 11-9; Q2 22-19 (11-10); Q3 31-28 (9-9). Q4 41-38 (10-10).
Rengen Player of the Match: Serena Guthrie (Team Bath Netball).