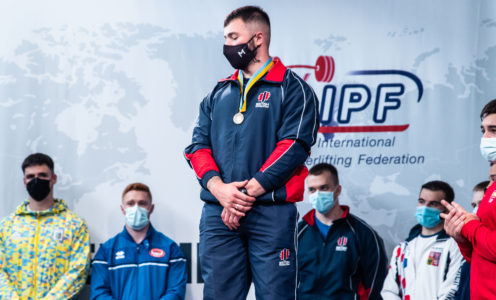 Team Bath Health & Fitness Instructor Luke Wilson won a brilliant bronze medal when he competed in the International Powerlifting Federation World Men's Classic Championships in Halmstad, Sweden.
Luke's best lift of 260kg in the squat was only bettered by two other competitors in the U23 -83kg weight division, Italy's Mazzucchielli Edoard and Adam Jansson of Canada who went on to place first and second overall.
He was sixth in both the bench lift and deadlift, with clearances of 162.5kg and 275kg, for a combined total of 697.5kg, which meant he finished a fantastic fifth overall.
Luke – a British and South West Record holder in Powerlifting who was British Champion in 2019, English Champion in 2018 and 2019, and English U23 champion in 2018 – is a Level 1 British Powerlifting Coach and personal trainer at Team Bath. Find out more about our personal training team at www.teambath.com/fitness/personal-training.