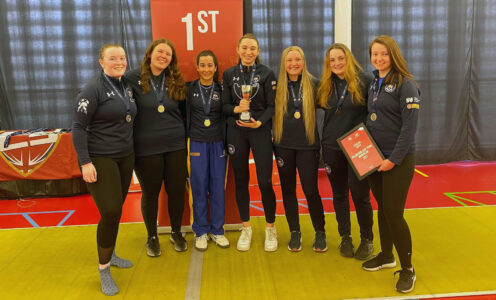 The women's fencing first team at the University of Bath are celebrating after winning the National Trophy Final at BUCS Big Wednesday in Nottingham.
The team of captain Olivia Wray (Politics and International Relations), Alice Moffat (MSc Drug Discovery), Catherine Bishop (Pharmacy), Catriona Gilmour (Mechanical Engineering), Gaia Guido (International Management), Katie Little (Chemical Engineering PhD) and GB international Louise Sadler (Modern Languages), who is supported by a Trendell Sporting Scholarship, have been in great form throughout the season.
As well as win all eight league matches to top the BUCS Western Tier 1 table, they also produced a number of strong performances in the knockout competition to qualify for the trophy showdown against the University of Glasgow.
Both teams of seven fenced three consecutive matches – each of them using a different weapon – to 45 points and while it was a challenging start to the day, Bath fought back brilliantly to overcome an early 24-point deficit to take the win 111-105.
It was the perfect preparation ahead of the forthcoming promotion play-offs, where Bath are looking to secure a place in Premier South.