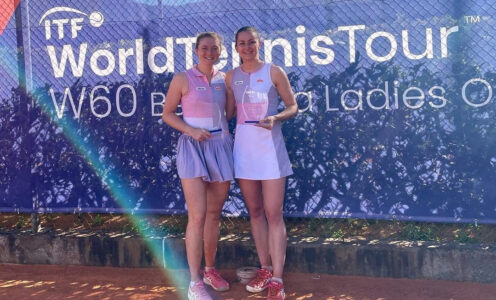 Team Bath Tennis ace Alicia Barnett and doubles partner Olivia Nicholls claimed the biggest tournament success of their careers to date as they won the W60 Bellinzona title on clay in Switzerland.
The result sees Barnett, coached by Ian MacDonald, move up to a career-high doubles ranking of 119 in the world and number three in Great Britain.
The British duo, who reached the Lyon Open final on their WTA Tour debut last month, were number one seeds for the ITF World Tennis Tour event in Switzerland and lived up to that billing, only losing one set on their way to the final.
After beating the home pairing of Natalia Vikhlyantseva and Simona Waltert 6-3 7-6(4), Barnett and Nicholls overcame Switzerland's Jenny Duerst and Carole Monnet of France 6-1 3-6 10-8 before defeating former Team Bath junior Emily Webley-Smith and her Swiss partner Leonie Kung 6-1 7-6(3) in the semi-finals.
That set up a trophy showdown with Swiss number two seeds Xenia Knoll and Oksana Selekhmeteva, who took the first set before the Brits battled back brilliantly to claim their first-ever W60 title with a 6-7(7) 6-4 10-7 success.
View this post on Instagram