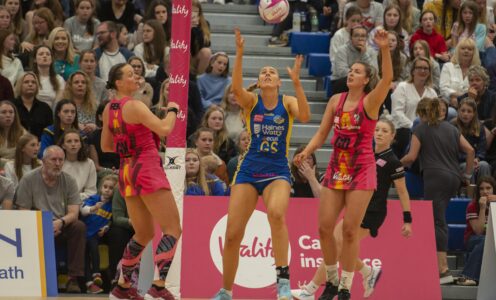 Team Bath Netball emerged with three vital points from a tight and tense last home match of the 2022 Superleague season against Wasps to take a huge step closer to securing a play-off place.
Friday's 43-41 success in front of a capacity crowd at the Team Bath Arena means the Haines Watts-sponsored Blue & Gold are six points clear of fifth-placed Saracens Mavericks, who now must win their penultimate match at Leeds Rhinos on Saturday to take the top-four battle into the last weekend of the season when the two play-off contenders will face off in Hertfordshire.
It was a nervy affair at times but Team Bath will be pleased to have got the points on the board and provide a winning send-off to Superleague Head Coach Anna Stembridge and popular attacking duo Kim Borger and Rachel Shaw, who are all leaving the club at the end of the season.
"It was a really important win," said Stembridge. "Wasps have hit some really good form so we knew it was a going to be a really tough one, right up to the final whistle.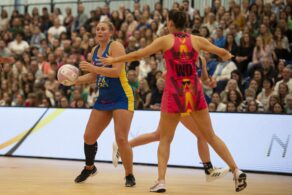 "We have faced some challenges this week and have asked a lot of the squad so credit to the girls for the way they applied themselves, particularly Hannah Passmore playing her first full game at shooter.
"We have been speaking about focussing on the game at hand and not getting too carried away. There has been a lot of talk around the race for the top four and it's an exciting position for the league to be in – not that it does a lot for our nerves!"
Player of the match Imogen Allison added: "It was a tough game and Wasps really threw everything at us, so we are really grateful to have got over the line tonight.
"It was lovely to be able to give Anna, Rachel and Kim a good send-off afterwards as well. They are huge characters and we wanted to show them how much we've appreciated everything they done for the club over the years."
There were several changes to the Team Bath starting 7 with University of Bath student Hannah Passmore making her first-ever Superleague start at goal-shooter. Borger lined up alongside her at goal-attack, with Sophie Drakeford-Lewis unavailable after picking up a knock, while Jess Shaw came in at centre to partner sister Rachel in her last home game before retirement.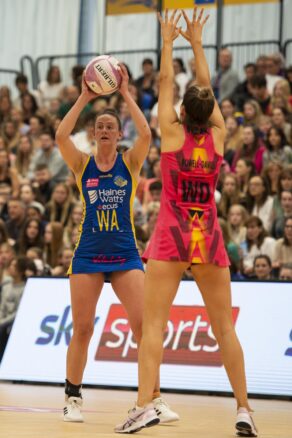 Captain Allison moved back to wing-defence alongside Layla Guscoth and Phumza Maweni, the latter producing two tips in as many minutes as Team Bath opened up an early 4-1 lead before being pegged back to all square.
Passmore was looking calm and composed on her full debut as the teams went goal for goal before another Maweni turnover allowed the hosts to edge into a 10-7 lead. However, Team Bath legend Rachel Dunn was in typically ruthless form in the Wasps attack and bagged the last three goals of the quarter to send the sides into the break all square at 11-11.
Wasps turned over Team Bath's opening centre pass of the second quarter to edge ahead for the first time and they went on to stretch their lead to 16-12 before a couple of flying interceptions from Guscoth and Allison got the capacity crowd in full voice and the hosts back to within a goal.
Back came Wasps and they once again opened up a four-goal lead, prompting the first changes of the evening from Team Bath as Tash Pavelin came on at wing-defence and Allison moved to centre. They had an impact as the hosts wrestled back the initiative and they scored six of the last seven goals, including one for Passmore in the dying seconds, to grab a narrow 23-22 half-time lead.
It had been a tight first half and the tension level crept up a notch during a defensive, low-scoring third quarter. Both teams had to work hard for their goals but, while they were twice pegged back to all square, Team Bath avoided going behind and dug deep to give themselves a little breathing space in the last three minutes as they edged into a 34-31 lead at the buzzer.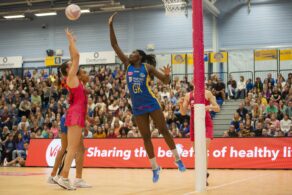 Wasps – who featured two former Team Bath pathway players in their defence, 2020 Superleague squad member Rachael Fee and Ella Powell-Davies – were shooting at 100 per cent going into the last quarter but, with the crowd roaring them on, the Blue & Gold were able to limit their chances and pull further clear.
Things got nervy again in the last five minutes as Wasps slowly cut a six-goal lead back to two but Team Bath had done enough to secure three vital points and strengthen their grip on fourth spot.
After the game there was an emotional on-court ceremony for Stembridge, Borger and Rachel Shaw, who were presented with flowers before receiving a standing ovation from the home fans.
Team Bath's last game of the season is what could be, depending on results this weekend, a decisive trip to Saracens Mavericks on Saturday 28th May (4pm centre-pass).
Match stats
Team Bath Netball starting 7: GS Hannah Passmore, GA Kim Borger, WA Rachel Shaw, C Jess Shaw, WD Imogen Allison (c), GD Layla Guscoth, GK Phumza Maweni. Replacements: Lily-May Catling, Tash Pavelin, Kirsty Harris, Asha Francis, Lily Jones.
Wasps Netball starting 7: GS Rachel Dunn, GA Lucy Parize, WA Iona Christian, C Lauren Nicholls, WD Ella Powell-Davies, GD Rachael Fee, GK Josie Huckle. Replacements: Gezelle Allison, Ellie Gibbons, Darcy Griffin, Christina Shaw, Caroline Tarnowski.
Quarter scores (Team Bath first): Q1 11-11. Q2 23-22 (12-11). Q3 34-31 (11-9). Q4 43-41 (9-10).
Player of the match: Imogen Allison (Team Bath Netball).