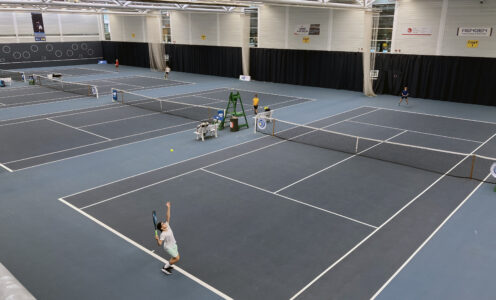 Talented young tennis players from 21 countries around the world are in action at the University of Bath this week as Team Bath hosts the Tennis Europe Junior International Bath for a second successive year.
The 87 players competing in the U12s tournament, running until Saturday 5th November, come from as far afield as Ecuador, South Africa, Uzbekistan, Japan, the United States and Ukraine.
There are also three Team Bath Tennis players in the main draw – Eric Lorimer and Fred Fabricius in the boys' event and Eloise Doumbia in the girls'. Olivia Adamska took part in the qualifying competition over the weekend.
The indoor tennis courts at the Sports Training Village will stage four events during the week – boys' singles and doubles, and girls' singles and doubles – and the singles competitions is being played in a round-robin format.
It is the second time the Junior International Bath has taken place, with the singles titles in last year's inaugural event going to Oluwajomiloju Aminu and Sevil Parvis.
Play gets under way at 10am daily and the tournament is free to watch, with great vantage points from the tennis balcony.