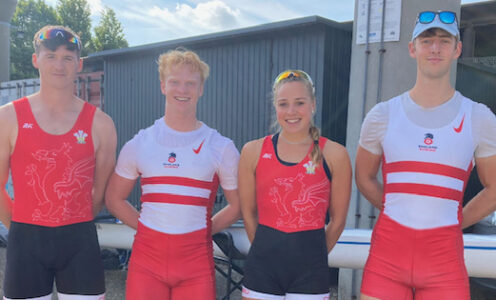 Rowers at the University of Bath will have their first chance to impress international selectors when the Great Britain Rowing Team trials get under way this weekend.
Boston will host the first of six trials for the 2023 Senior and U23 teams on Saturday and Sunday (5-6 November), with Jamie Gare and Cedol Dafydd – who study Accounting & Finance and Sport Management & Coaching respectively – racing as seniors.
Both are members of the GB Rowing Team Start programme based at the Sports Training Village, as was alumna Becky Wilde who will race for her new club Leander at the trials.
In the U23 section, Angus Pollock (Aerospace Engineering) is trialling as a sculler and Jack Norton (Economics and Mathematics) as a lightweight.
All will race over 2km on the ergo on Saturday, then over 5km on the water in singles on Sunday.
Dan Harris, Senior Start Coach at Bath, said: "This will be a good test for the rowers. It's the first trial of the year and the chance to get an indication of where they all rank in their respective disciplines."
Potential rowers can trial for the GB Rowing Start programme at any time and no rowing experience is necessary. Email Dan.harris@britishrowing.org for further details or visit teambath.com/rowing to find out more.