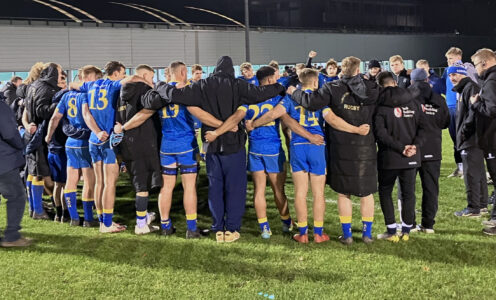 Team Bath men's 1st XV travelled to Exeter yesterday (30th November) as their unbeaten BUCS Super Rugby away record faced a traditionally tough challenge in the BUCS Super Rugby South-West derby against Exeter University.
The Bath Building Society-sponsored side had won all three of their matches on the road this season and were sitting joint top of the table after a four-game unbeaten run.
The first half, which saw Exeter strike first, was fairly evenly matched, with both sides conceding multiple penalties. Bath took the lead after Exeter conceded another series of penalties, but Exeter battled back from a four-point deficit to level the half-time score at 10-10.
In the second half, Exeter raised their game and put Team Bath under sustained pressure in their half. Unfortunately, Team Bath were unable to find the momentum they needed to get back into the match and, despite a second try, could not find their way back. The full-time score: Exeter University 44 – 17 Team Bath.
Team Bath's Head of Rugby, Aaron James, commented: 'It was a disappointing result, but full credit to Exeter. We will have a hard look at the areas that meant we lost momentum in the 2nd period and allowed Exeter to put us under this sustained pressure in our half. With two games left before the Christmas break this loss gives us even stronger motivation to finish the first block well.'
Team Bath's men's 1st XV will next meet Cardiff University away on 7th December (6pm).
Scorers – Tries = Jasper Spandler and Harry Breeze. Conversions = 1x Alfie Garside. Penalties = 1x Alfie Garside
Team Bath starting XV: 1 Archie Stanley, 2 Jasper Spandler, 3 Archie Griffin, 4 Eddie Erskine, 5 Haydn Barnes, 6 Tom Cowan, 7 Ethan Staddon, 8 Harry Breeze; 9 Elis Horgan, 10 Zac Rodber, 11 Alex Clayton, 12 Ludo Kolade, 13 Louie Hennessey, 14 Alfie Garside (c), 15 Byron Lloyd-Gilmour. Replacements: 16 Duncan Hood, 17 Ollie Tack, 18 Archie McNicol, 19 Joe Badger, 20 Tom Williams, 21 Tom Carr-Smith, 22 Sam Kennaugh, 23 Ethan Hawtin.