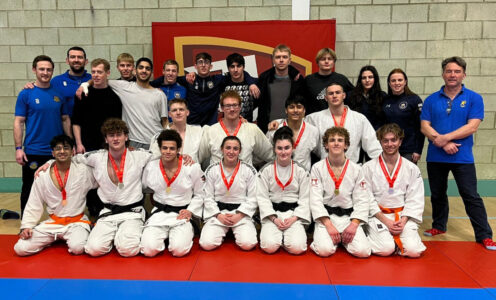 Team Bath judoka won a host of medals when they contested the 2023 BUCS Judo Championships in Walsall over the weekend.
The Kyu and above (brown belt and above) category saw Roxy Proctor beat Evie Halvey-Jacobs to women's-63kg gold in an all-Bath final. The duo combined to win women's team gold.
Sports Performance alumna Chloe Robyns-Landricombe, who still trains at Team Bath and was representing Gloucestershire, took the -57kg title.
In the men's division there were gold medals for Adam Vosper and Cameron Charles, at -60kg and -73kg respectively, plus -90kg silver for Luke Austen and +100kg bronze for Alex Jenkins. Vosper, Charles, Austen, Jenkins and Charlie Cole also won silver in the men's team championship.
The 2nd Kyu and below (blue belt and below) competition featured an all-Bath battle for -60kg bronze that Ankit Kumar won after a battle with Ammar Mir that went into the fifth minute of Golden Score.
Austin Milward won +100kg gold and there were silver medals for Finley Bush (-66kg) and Rudransh Chitalia (-81kg).