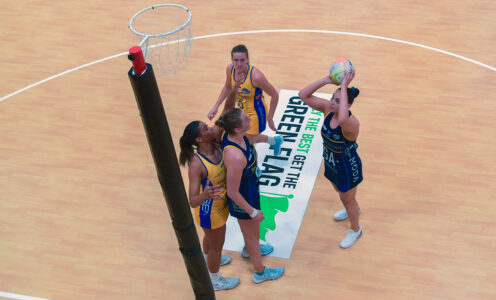 Team Bath Netball head to Saracens Mavericks today (Monday) looking for a response to their game of two contrasting halves at Leeds Rhinos on Saturday.
The Haines Watts-sponsored Blue & Gold looked on course for their first away win of the 2023 Netball Super League season as they stormed into a 36-25 lead at the end of an excellent first half.
However, the hosts grabbed the momentum during a third period which they won 17-7 to reduce Team Bath's lead to one goal. The visitors tried to rally during an improved fourth quarter but Rhinos were able to complete their comeback and record a 59-55 victory.
Asha Francis, Team Bath Netball Head Coach, said: "I was really proud of our start, I thought it was a brilliant carry-through from Friday [against Manchester Thunder]. We started with real firepower and the first half was exceptional.
"We were a bit naïve in the second half, though. They were obviously going to come out stronger and change a few things, and we weren't able to pick up the momentum and carry it through."
Team Bath are back on the road for their penultimate game of the season, which again is being streamed live on Sky Sports (5.30pm centre-pass). Watch here:
Picture: Craig Cresswell/Leeds Rhinos