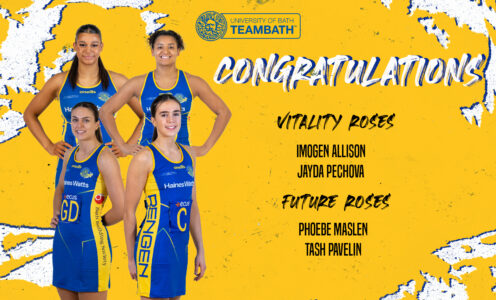 University of Bath sporting scholar Jayda Pechova has been rewarded for her excellent debut Super League season with Team Bath Netball by being promoted to the senior Vitality Roses ranks for the 2023-24 international season.
The 18-year-old defender joins fellow Blue & Gold star Imogen Allison in the 24-strong England programme, while fellow teenager Phoebe Maslen and Tash Pavelin have both been selected for the Future Roses development squad.
Pechova, who is supported by a Trendell Sporting Scholarship as she combines her netball career with studying Sports Performance, has started the majority of Super League games for Team Bath this season and is ranked in the top five for turnovers and interceptions.
She is one of five new faces in the Vitality Roses programme, while inspirational mid-courter Allison is named in the senior squad for a fifth successive year having also recently been selected for this summer's Netball World Cup in South Africa.
Defender Pavelin, who is making a strong recovery from an anterior cruciate ligament injury that ruled her out of the 2023 Super League season, retains her place in the Future Roses while Team Bath training partner Maslen – who excelled on her three Super League appearances in Blue & Gold – steps up from the Roses Academy for the first time.
Asha Francis, Team Bath Netball Head Coach, said: "Congratulations to Imo, Jayda, Phoebe and Tash on their well-deserved selections.
"It is really exciting to see Jayda make the step up, she has had an impressive first full season at Super League level and this is a great opportunity for her at what will be the start of a new World Cup cycle.
"It's no surprise to see Imo in the Vitality Roses programme for another season but it is always a huge achievement to be selected, especially with the number of young players pushing for a place, and something to be celebrated.
"Had Tash had a full Super League season she may well have been pushing for a Vitality Roses place herself but she is recovering well from injury and it is great to see her remain part of the England set-up as she continues her comeback.
"Phoebe is another young player who will be looking to take her opportunity at the start of a new international cycle. She certainly did that on her Super League appearances this season and also had a great NPL campaign. She is definitely one for the future."
Also selected in the Vitality Roses programme are former Team Bath duo Sophie Drakeford-Lewis and Layla Guscoth, while University of Bath graduate Paige Reed retains her place in the Future Roses.
Pechova, Allison, Drakeford-Lewis, Pavelin and Reed all receive or received sports scholarship support while combining netball and study at the University of Bath. Applications are now open for the 2023-24 sporting scholarship programme from current and prospective Bath students – visit teambath.com/scholarships to find out more.