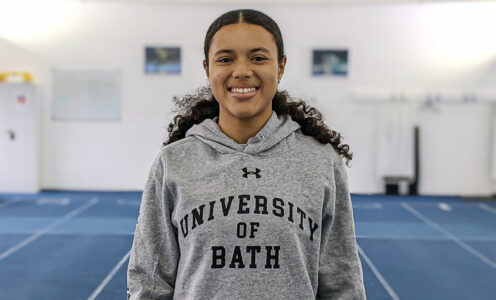 University of Bath sporting scholar Aleeya Sibbons is set to make her senior Great Britain and Northern Ireland athletics debut after being named in the European Team Championships squad.
The Architecture student, who is supported by a Santander Scholarship, has been selected in the women's 4x100m relay team for the first division match at the Championships, held in Silesia, Poland on 23-25 June.
Sibbons is one of 11 debutants in the GB&NI squad and her selection comes after she clocked a new 100m personal best of 11.33, within the European qualifying time. She represented her country at U23 level in last month's Loughborough International, winning the 100m and finishing runner-up over 200m with a new legal PB of 23.82.
View this post on Instagram
Colin Bovell, Head Track and Field Coach at the University of Bath, said: "Congratulations to Aleeya on her first senior GB vest at the European Teams Championships in Poland – a great leap forward this year and more to come!"