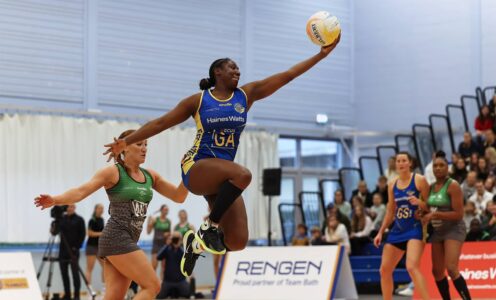 Team Bath's Kadeen Corbin will make her Netball World Cup debut this summer after being selected in the Barbados squad heading to South Africa.
She is joined in the squad by sister Sasha, a former Team Bath player who will be making her final competitive appearance before retiring from the game.
The Corbin sisters have both previously represented England at the Commonwealth Games, with Kadeen helping the Roses secure their historic gold medal on Australia's Gold Coast in 2018.
Both @Sasha_Corbin & I are so humbled, our hearts are full, it's a dream come true, never thought we'd get to play on the international stage again. What an absolute honour and exciting opportunity to be named to represent Barbados at NWC in South Africa 🇧🇧💎 pic.twitter.com/nfz9e56qnD

— Kadeen Corbin (@Kadeen_Corbin) June 22, 2023
University of Bath graduate Kadeen is the fourth Team Bath player to be officially selected for the World Cup, which is taking place in Cape Town from 28th July to 6th August.
Imogen Allison will represent England, who face Barbados in their opening match, while Bethan Dyke and U19 NPL player Sarie Watkins are in the Wales squad.