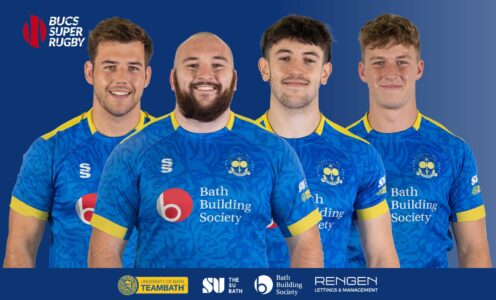 The University of Bath men's 1st XV were beaten 43-30 in a high-scoring BUCS Super Rugby match against old rivals and defending champions Loughborough.
Eleven tries were scored in a fiercely competitive match, with Ted Johnson and Zak Giannini touching down for the Bath Building Society-sponsored visitors in the latter stages of the first half.
Both were converted by Iwan Price-Thomas, who also scored a 10th-minute penalty, as Bath took a 17-12 lead into the half-time interval.
An action-packed start to the second period saw Loughborough edge ahead with a converted try, then Price-Thomas restore Bath's lead with a penalty before the hosts touched down twice in quick succession to open up a 31-20 advantage.
Loughborough went on to score two more tries in the last 15 minutes but Bath did too through Sam Mercer and Iwan Coyle to ensure they at least went home with a hard-earned bonus point.
Bath, who are also supported by Rengen, have their third away match in as many weeks when they visit Leeds Beckett on Wednesday 11th October (2pm kick-off).
The first 'home' game of the season sees Bath take on Varsity rivals Cardiff Met at The Rec in the 2023 Anniversary Game, sponsored by Colour Studios and Dragon Signs. It is taking place on Wednesday 18th October (6.30pm) and free tickets are available now – click here to register.
University of Bath starting XV: 1 Scott Kirk, 2 Yujian Zou, 3 Zak Giannini, 4 Will Jeanes, 5 Tom Berry (cc), 6 Erik Bryant, 7 Lachlan McGrigor, 8 Ted Johnson; 9 Elis Horgan (cc), 10 Iwan Price-Thomas, 11 Sam Mercer, 12 Will Roue, 13 Neo Ivanovic-Brown, 14 Murdoch Lock, 15 Austin Emens. Replacements: 16 Max Keller, 17 Archie Stanley, 18 Henry Mountford, 19 Max Mayor, 20 Iwan Coyle, 21 Evan Jones, 22 Ioan Lewis, 23 James Short.