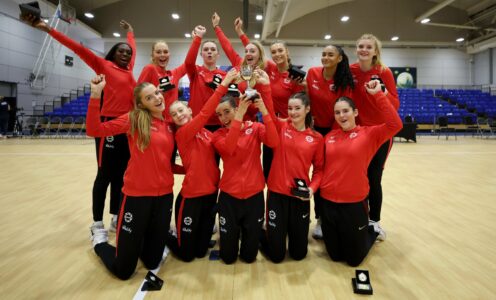 Team Bath Netball Super League player Phoebe Maslen captained England to victory at the Europe Netball U21 Championship in Sheffield.
She was joined in the winning squad by fellow Blue & Gold star Sophie Kelly, NPL player Daisy Harrison and University of Bath Sports Performance fresher Alanna Pullen.
Captain Deni Agnew and fellow Sport Management and Coaching student Charlotte Jenning Evans helped Wales secure silver medals.
Mid-courter Maslen said: "We went in with high expectations and the goal of winning but we were well contested over the three days, so we're really happy.
"It was my first international U21 experience, so that was pretty special anyway, but to be captain was a huge honour and so much fun, I really enjoyed it."
Wales U21 Win Silver at Europe Netball Championship Event🥈

With the squad having outstanding performances, and successfully winning two matches, our U21's claimed silver at the competition!

For a recap of the Europe Netball Championship Event, click ⬇️https://t.co/w3djtVYmFp pic.twitter.com/vO6ZQtPc4d

— Wales Netball | Pêl-Rwyd Cymru (@WalesNetball_) October 9, 2023
Maslen started all three games as England beat Northern Ireland 75-35, Wales 63-44 and Scotland 54-43 to secure the trophy.
Harrison, a talented defender who has come through Team Bath's Athlete Development Centre in Exeter, was named as Player of the Match on her England U21 debut against Northern Ireland and said: "It was such a great game and an amazing experience to remember."
The Europe Netball U21 Challenge competition saw a Republic of Ireland side featuring Team Bath NPL player Roisin O'Rourke and University of Bath student Orla Lynch finish runners-up.
Pictured: The victorious England U21 squad including Sophie Kelly (back, second from left), Daisy Harrison (back, right), Phoebe Maslen (front, centre) and Alanna Pullen (front, second from right). CREDIT: Morgan Harlow.