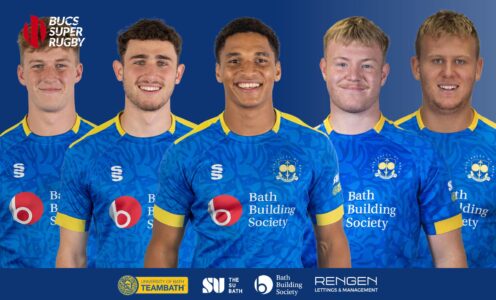 Four first-half tries set the University of Bath men's 1st XV on their way to a first away win of the 2023-24 BUCS Super Rugby season as they beat Swansea 38-17.
It was a third win in a row for the visitors, sponsored by Bath Building Society, whose dominance during the opening 40 minutes was reflected by tries from Iwan Coyle, Oli Sedgwick, Ludo Kolade and Max Pearce.
Swansea were restricted to a Fraser Jones penalty in reply as Bath took a 24-3 lead into the interval.
Hooker Pearce and replacement Eddie Erskine notched further tries for the visitors during a more evenly-matched second period, Raff Weston kicking the extras for both to add to his two conversions from the first half.
Peter Vickers and Tal Rees touched down for Swansea, the latter kicking both conversions, but Bath were well worth a win which lifted them above their opponents in the table.
Watch the Bath tries here:
Bath, also supported by Team Bath sponsors Rengen, now have a rest week but will return to action on Wednesday 15th November with their first match of the season at the Team Bath Sports Training Village. Nottingham are the visitors, kick-off is 6.30pm and admission to spectators is free.
Match stats
Swansea starting XV: 1 Max Marshall, 2 Will Austin, 3 Morgan James, 4 Craig Thompson, 5 Peter Vickers (c), 6 Hugo Morley, 7 Will Plessis, 8 Carwyn Sion; 9 Griff Williams, 10 Fraser Jones, 11 Callum Dodd, 12 Iwan Johnes, 13 Rory Case, 14 Elliot Smith, 15 Tim Davies. Replacements: 16 Saul Hurley, 17 Luke Tucker, 18 Paula Fifita, 19 Theo Currie, 20 David Francis, 21 Ben Thomas, 22 Tal Rees, 23 Brad Roderick.
Tries: Vickers, Rees.
Conversions: Rees 2.
Penalties: Jones.
University of Bath starting XV: 1 Scott Kirk, 2 Max Pearce, 3 Billy Sela, 4 Will Jeanes, 5 Josh Dingley, 6 Mackenzie Graham, 7 Iwan Coyle, 8 Ted Johnson; 9 Elis Horgan, 10 Raff Weston, 11 Byron Lloyd-Gilmour, 12 Ludo Kolade (c), 13 James Short, 14 Oli Sedgwick, 15 Iwan Price-Thomas. Replacements: 16 Yujian Zou, 17 Archie Stanley, 18 Zak Giannini, 19 Eddie Erskine, 20 Jack Bennett, 21 Lachlan McGrigor, 22 Ieuan Davies, 23 Will Roue.
Tries: Coyle, Sedgwick, Kolade, Pearce 2, Erskine.
Conversions: Weston 4.