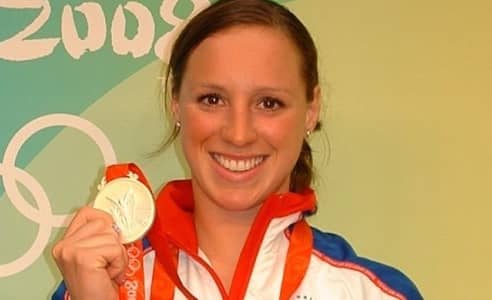 Team GB's Heather Fell made sure of continuing the nation's outstanding Olympic track record in modern pentathlon by winning silver today.
The medal; coming on the back of Steph Cook and Kate Allenby's gold and bronze in Sydney and George Harland's bronze in Athens; is a tribute to the PentathlonGB programme which is run from the University of Bath Sports Training Village's specialist sports facilities by Performance Director Jan Bartu and his team of coaches.
Fell finished 10 seconds behind winner Lena Schoneborn of Germany. Victoria Tereshuk of the Ukraine was hot on her heals, climbing from sixth to third in the first 1000m, but Fell successfully battled her way to a total of 5742 points and clinch the silver medal.
Also today, team-mate and University of Bath graduate athlete Katy Livingston climbed two places to finish in seventh with a total of 5548 points.
Yesterday's men's event saw Bath based Sam Weale and Nick Woodbridge compete in the men's event.
Weale took a top ten finish on his Games debut and Woodbridge finished 25th.
A strong performance in the 3km run ensured Weale made the top 10 after a slow start and despite finishing in 25th place, Woodbridge produced a personal best and temporarily broke the Olympic record in the swim.
Weale finished on a total of 5412 points and Woodbridge a total of 5168 points.
Team Bath Director of Sports Development Ged Roddy could not speak highly enough of the efforts and achievements of the modern pentathlon contingent, who train at the university's unique modern pentathlon facilities.
"We're absolutely delighted for all the staff and athletes from PentathlonGB who are based in the University of Bath Sports Training Village for their success in Beijing over the past two days," said Roddy.
"A silver medal for Heather Fell has capped some fantastic performances including Katy Livingston's seventh place today and Sam Weale's top ten finish yesterday with Nick Woodbridge taking 25th place. Well done to them all."
For further information please contact the Team Bath press office at Matchtight Ltd on 01225 383518 or by email at press@matchtight.co.uk
You can also find out more about Team Bath at www.teambath.com , follow us on Facebook at www.facebook.com/teambath or on Twitter at https://twitter.com/#!/teambath
The University of Bath is The Sunday Times University of the Year 2011/12.