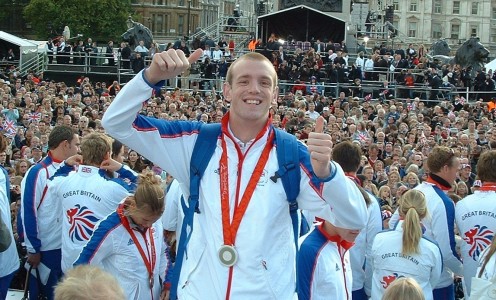 Super University of Bath student Ben Rushgrove stormed to 100m silver in the Bird's Nest stadium in Beijing earlier today, bringing Britain's athletics squad a little ray of light on a gloomy morning.
Rushgrove won Britain's first track medal of the day when he powered to second in the T36 100m behind Ukraine's Roman Pavlyk. The 20-year-old Team Bath ahlete responded superbly after a sluggish start and with a late surge grabbed the silver in 12.35 from China's So Wa Wai.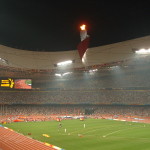 Rushgrove, who broke the world 200m record at the Paralympic World Cup in Manchester last year, was delighted to take a medal with a personal best in his second event as Pavlyk broke the Paralympic record to win gold.
"It felt awesome," said Rushgrove. "I came out of my blocks well and pushed all the way for silver.
"The Ukraine athlete beat me at the 2006 world champs, but I didn't think he would run that fast here."
Rushgrove injured his foot recently and was quick to thank his team's medical support.
"Without the doctors and physio here in China, and at Bath, I wouldn't have made it," he said. "They kept me in one piece after my foot injury. They were a fantastic team."
Rushgrove, who was cheered on by his family who live in Bath, added: "I have never competed in front of a big crowd like this, it really spurred me on. It lifts you when you walk out through the tunnel. I want to go out there again now."
He'll have to wait a while, though. Rushgrove goes for more medals in the 200m on Monday (15 September) along with Chorley sprinter Graeme Ballard who was eighth in the 100m final in 12.65 today.
For further information please contact the Team Bath press office at Matchtight Ltd on 01225 383518 or by email at press@matchtight.co.uk
You can also find out more about Team Bath at www.teambath.com , follow us on Facebook at www.facebook.com/teambath or on Twitter at https://twitter.com/#!/teambath
The University of Bath is The Sunday Times University of the Year 2011/12.