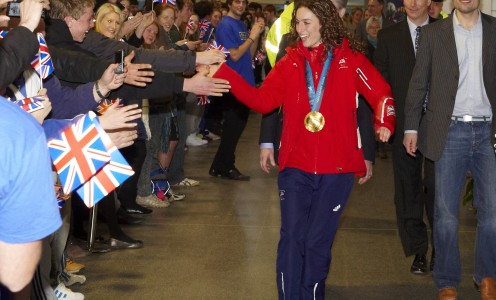 University of Bath-based skeleton slider Amy Williams today (Friday) became Team GB's first individual Olympic Winter Games gold medallist for 30 years and the first woman individual gold medallist for 58 years.
The 27-year-old won the women's skeleton title at Vancouver 2010 Olympic by an emphatic 0.56 seconds.
Williams said she was delighted with her gold medal. "It's absolutely brilliant. It's out of this world. Never in a million years did I think I'd come here and win gold," she said. "I don't think it will sink in for weeks and weeks.
"It's amazing to do this for my country. I had nothing to lose here and I just went for it. I enjoyed every minute.
"I knew I had to just keep it together.  I can't remember what I did on the last run, half of the track is just a blur.
"I've done everything I possibly could in the last four years to get here and to put in my best performance."
Williams dominated the skeleton event in Vancouver from the start – leading from her very first run yesterday (Thursday), when she broke the track record at the Whistler Sliding Centre.
Williams went into today's final two runs with a 0.30-second lead over Germany's Kerstin Szymkowiak in second. And she took a step closer to gold on the first run of the day with another stunning track record.
Her time of 53.68 took another 0.15 seconds off her own track record. Her rivals couldn't match her pace and Williams went into the final run of four with a 0.52 second lead over Canada's Mellisa Hollingsworth in second.
Williams remained grounded saying: "I started afresh today and really enjoyed it. Corner 12 and 13 was a bit hairy, but it was a good run."
Williams clocked 54.00 seconds on her final run to stretch her winning margin to 0.56 seconds from Szymkowiak, with another German, Anja Huber, taking bronze. GB team-mate Shelley Rudman finished sixth.
Meanwhile Adam Pengilly, who also trains at the University of Bath, came 18th in the men's skeleton at what was his second Olympic Winter Games.
Pengilly, whose campaign was hampered by a knee injury, said: "It's been a tough and disappointing week for me. I started to improve, but unfortunately it was too little too late."
Pengilly went into the last two runs in 20th place. His 53.36 on his third run moved him up to 18th and he followed that up with 53.23 on his final run for a total time of 3:34.51.
Team-mate Kristan Bromley ended the day in sixth at his third Olympic Winter Games.
Williams' result means Great Britain have won medals in skeleton at the last three Olympic Winter Games, since the re-introduction of the sport to the Olympic programme. Alex Coomber won bronze at Salt Lake City in 2002 and Shelley Rudman took silver at Turin four years ago.
Britain has medalled at every Olympic Winter Games to feature skeleton, with David Carnegie, the 11th Earl of Northesk, winning bronze in 1928 and John Crammond also winning bronze in 1948.
Williams' gold was Team GB's ninth gold in Olympic Winter Games history. The last gold was won by the women's curling team in Salt Lake City in 2002 and the last individual gold was won by figure skater Robin Cousins at Lake Placid in 1980.
The last British woman to win an individual gold was Jeannette Altwegg, who won figure skating gold in Oslo in 1952.
Posted: Saturday 20 February 2010