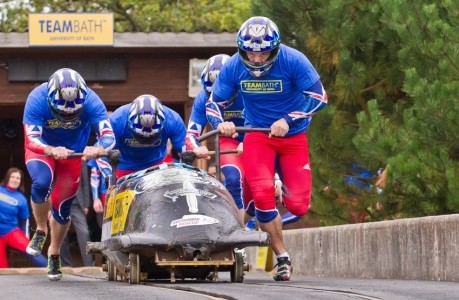 The British bobsleigh team has returned to its roots to train at the University of Bath.
The partnership between British Bobsleigh and TeamBath was announced at a launch event at the Sports Training Village today (19 October) before the British crews head off around the world for the start of the new season.
Michael Hoch, Chief Operating Officer of the Department of Sport, said: "We are delighted to add bobsleigh to the TeamBath family, especially as the sport is coming back to its roots. We look forward to a strong, long and successful partnership and particularly to working with British Bobsleigh in the lead-up to the Sochi 2014 Olympic Winter Games."
The University is also the home of British Skeleton. Skeleton athletes Amy Williams, a University of Bath graduate, won skeleton gold at the Vancouver 2010 Olympic Winter Games.
Members of the Britannia Rescue British bobsleigh team were at University of Bath to launch the new 2010-11 season.
The women's GBR1 team includes driver Paula Walker and her brakeswomen Kelly Thomas, Kelly Denyer, Heather Fisher and Rebekah Wilson.
Speaking on the day, number one driver Paula Walker who only took up the sport four years ago, said: "I have worked hard for the last three years, making sure I was the strongest, the fastest and the best mentally prepared and now it's paid off. I feel I have come so far in such a short time.
"I now need to prove that the right choice has been made. I am in great shape and have been pushing personal bests so I am confident that I will be getting some great results this season."
Female athletes in the GBR2 teams include Gillian Cooke, Fiona Harrison, Faye Pittman and Nikki McSweeney.
John Jackson – who is Paula Walker's partner – is driver of GBR1. He is joined by brakemen Dan Money and Chris Woolley. The men's GBR2 team includes Lamin Deen, Will Golder, Rich Sharman, Kevan Crowell, Keith McLaughlin and Martin Cooper.
Jackson said: "I am more than up for the challenge of being the number one pilot in Great Britain, but that is not my main focus. My main focus is to become one of the top pilots on the World stage."
Speaking about his personal relationship with Paula Walker, he said: "We are both very competitive at everything, so it's not just bobsleighing. If Paula beats me at anything, she makes sure that I know about it!"
British Performance Director Gary Anderson who spoke at the press day said: "We have some exciting young prospects and we are going to give these athletes experience this year as part of our long term goal of topping the podium in Sochi 2014. This is part of our performance plan.
"We have targeted the World Junior Championships this year as the launch pad of a sustainable programme where we have a number of crews all competing for selection as we move towards Sochi."