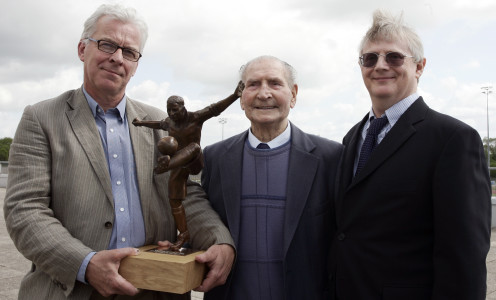 A bronze statue of former Welsh international footballer and University of Bath football coach Ivor Powell MBE was unveiled at the University today (Tuesday).
The 94-year-old retired a year ago after 37 years working as a football coach at the University. It followed a remarkable career that saw him play for Wales, Blackpool, Aston Villa and Queen's Park Rangers.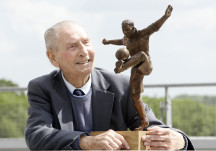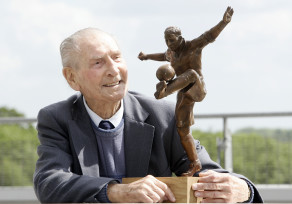 The 18-inch tall statue is cast in bronze and was paid for by the University of Bath football alumni and Ted Baker, which has long-standing links with the football at the University.
It will be presented to future winners of the Ivor Powell Award for Excellence in Coaching, which is awarded to a coach at the University at the annual Blues Awards ceremony. The trophy will be presented for the first time at tomorrow (Wednesday) night's Blues Awards ceremony at the Assembly Rooms in Bath.
"The statue is very good," said Ivor after seeing it for the first time. "I've really enjoyed my time at the University and it was great to see so many people here today."
University of Bath Vice-Chancellor Professor Glynis Breakwell, was among those attending the ceremony along with staff from the University and some of Ivor's relatives.
Chris Jennison, Warden of the Blues, said: "The Blues evening is a highlight of the year for student sport in Bath.
"Ivor is a legend and it's really fitting that we have this statue of Ivor for the Ivor Powell Award for Coaching Excellence. I'm sure the recipient will be doubly honoured to receive such a superb statue and to have the wonderful association with Ivor."
Stephen Baddeley, Director of Sport at the University of Bath, said: "It's a superb statue and is a fitting tribute to Ivor, who has been an inspirational figure both within University of Bath sport and in the wider sporting world."
Paul Tisdale, former head football coach at the University of Bath who has just steered Exeter City to eighth place in League One, also attended the ceremony. "I served my apprenticeship as a coach here at the University of Bath, spending seven years alongside Ivor. He is a very special chap and I'm very fond of him. He has mentored and given so much to so many people over the years.
"He is committed, honest and loyal and has always led by example, even in his 90s."
The statue was made by local sculptor Alan Dun, who created it from a photograph of Ivor taking part in a training session at Aston Villa in the 1950s.
"I'm pleased with it," he said. "A photo only gives you one glimpse of someone at one moment in time, but I had to make something that looks good from 360 degrees and in all light for all time.
"I met Ivor too because I wanted to get a sense from the man of what he was actually like and that did help."
Ivor played for Wales, Blackpool, Queen's Park Rangers and Aston Villa during an illustrious footballing career that saw him coach at Leeds United, Carlisle and PAOK of Greece, before coaching at the University of Bath for 37 years.
The great Sir Stanley Matthews was best man at Ivor's wedding. In 2004 Ivor was inducted to the Welsh Sports Hall of Fame, in 2006 his role as the world's oldest working football coach was recognised as a Guinness World Record and in 2008 he was made an MBE in the New Year's Honours List.
The University of Bath launched the Ivor Powell Sports Scholarship on his retirement a year ago.
For further information please contact the Team Bath press office at Matchtight Ltd on 01225 383518 or 07765 071683.