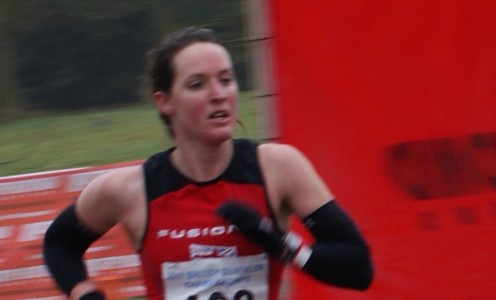 Triathlete and cross-country runner Lucy Ferguson was named the University of Bath's Sports Personality of the Year for 2011 at the annual Blues Awards, one of the highlights of the student sporting year.
Lucy, who is in the fourth year of a Sports Engineering degree at the University of Bath, topped a poll of Students' Union Sports Association members to collect the award.
Paralympic athlete Katrina Hart, swimmer Michael Jamieson, rugby player Izzy Noel-Smith and netballer Sam Perry also featured on the shortlist.
Unfortunately Lucy couldn't be at the awards ceremony at the Assembly Rooms as she was at an overseas training camp. But she said she was surprised and proud to win the award.
"I'm absolutely thrilled," she said. "I was delighted to be nominated in the first place and seeing myself among other such elite athletes with such outstanding results, I considered myself pretty outclassed.
"I have put as much as I could into the cross-country and triathlon clubs this year trying to encourage novices to race and I want to thank my clubs and my
department, Mechanical Engineering, for their support in voting."
A former modern pentathlete, Lucy finished third in the 2009 World Biathle Championships, which combines swimming and running, and fourth at the British Universities and Colleges Sport (BUCS) triathlon championships earlier this month. She helped organise the 2010/1 Bath Run Series of races.
University of Bath graduate, former TeamBath netballer and current head coach Jess Garland, was winner of the Ivor Powell Award for Coaching Excellence. She became the first winner of the award to receive the new bronze statute of Ivor.
Hockey player George Farrant and netballer Rosie Allison won the Santander Sportsman of the Year and Santander Sportswoman of the Year awards, while the University of Bath Rowing Club was named Club of the Year and the women's badminton team collected the BUCS team of the year title.
There were also honorary Blues for Paul Blake and Katrina Hart, two University of Bath-based athletes who both won gold medals at this year's Paralympic World Athletics Championships
Stephen Baddeley, Director of Sport at the University of Bath, said: "I'd like to congratulate everyone who received Awards, Full Blues, Half Blues and Colours at this year's Blues Awards ceremony and thank them for the contribution they have made to sport at the University.
"The range of award recipients again this year is a reflection of the diversity of sporting activity at the University of Bath."
The Blues Awards are an annual celebration of the achievements of the University of Bath's sportsmen and women. This year's awards, held at the Assembly Rooms, were the 38th Blues Awards. Olympic gold medal-winning speaker Jason Gardener was guest speaker.
BUCS Team of the Year 2010/11
1st: Ladies badminton 1st team
2nd: Karate
3rd: Netball 1sts, Futsal Men's 1sts
Club of the Year 2010/11
1st: Rowing
2nd: Netball
3rd: Jiu Jitsu
Gethin John Bevan Club Member of the Year
Robert McDougall (Rowing)
The Tugendhat Trophy
Jack Cadman (Rowing)
Sports Personality short list
Michael Jamieson (Swimming)
Sam Perry (Netball)
Izzy Noel-Smith (Rugby)
Lucy Ferguson (Triathlon)
Katrina Hart (Athletics)
Ivor Powell Award for Coaching Excellence
Jess Garland (Netball)
Santander Sportsman of the Year
George Farrant (Hockey)
Santander Sportswoman of the Year
Rosie Allison (Netball)
Honorary Blues
Paul Blake (Athletics)
Katrina Hart (Athletics)
Honorary Colours
Jamie Podkowka (Football & Futsal)
Chris Guiver (Jitsu)
Hayden Phyo (Latin and Ballroom)
Chris Clements (SA Exec)
Laura Jackson (SA Exec)
Leigh Culling (SA Exec)
Patrick Balling (SA Exec)
Daniel Willis (Trampoline)
Grace McCatty (Zambia Project)
Joseph Dale (Zambia Project)
Matthew Dochniak (Zambia Project)
Matthew Guy (Zambia Project)
Full Blues
James Groocock (Athletics)
Alex Paske (Judo)
John Whittington (Mountain biking)
Sam Perry (Netball)
Sean Bathe-Taylor (Rowing)
Nicola Hoole (Rugby)
Lucy Ferguson (Triathlon)
Half Blues
Jose Lima (Football & Futsal)
Mark Ingram (Football & Futsal)
Robert Yilmaz (Football & Futsal)
Tom Piotrowski (Football & Futsal)
Matthew Edgar (Fencing)
Matthew Floyd (Golf)
Joanna Slade (Hockey)
Simon Rea (Hockey)
Lucy Moir (Hockey)
Dani Black (Hockey)
Hannah Tsui (Hockey)
Harriet Stratten (Hockey)
Phillipa Mitchell (Hockey)
Shaun Mitchell Judo
Thomas Beasley (Karate)
Gabriella Luisa Rodriguez (Rowing)
Lara Crouch (Tennis)
Colours
Charlotte Plumb (Football & Futsal)
Colin Rhodes (Football & Futsal)
Fynn Scheben (Football & Futsal)
Hannah Charman (Football & Futsal)
Jamie Podkowka (Football & Futsal)
Joe Dibben (Football & Futsal)
Josh Merritt (Football & Futsal)
Katie Ransome (Football & Futsal)
Matthew Dochniak (Football & Futsal)
Matthew Hind (Football & Futsal)
Michael Geggus (Football & Futsal)
Nicolas Mastenbroek (Football & Futsal)
Sam Dormon (Football & Futsal)
Sam Tufts (Football & Futsal)
Christopher Wakeford (Athletics)
Lucy Ferguson (Athletics)
Alex Huttunen (Badminton)
Benjamin Tier (Badminton)
Bronwyn Powell (Badminton)
Stuart Rowlands (Badminton)
Ben Boulton (Canoe Club)
Laura Pascoe (Canoe Club)
Stuart Taylor (Canoe Club)
Gary Chappell (Cricket)
Sam Cooper (Cricket)
Michael Geggus (Cricket)
Andreas Kouyialis (Fencing)
Anthony Cameron (Fencing)
Barnabas Williams (Fencing)
Rory Hawkins (Floorball)
Julia Holder (Hockey)
Lucie Celerier (Hockey)
Lucy Eayrs (Hockey)
Graeme Kirkwood (Jiu Jitsu)
Jonathan Garner-Richardson (Jiu Jitsu)
Bassam Talsi (Karate)
Richard Sheppard (Karate)
Anthony Ackers (Lacrosse)
Chris Turner (Lacrosse)
Rhys Morgan (Lacrosse)
Charlotte Benbow (Lacrosse)
Helen Whateley (Lacrosse)
Katherine Murray (Lacrosse)
Becky Watkins (Netball)
Clare Locke (Netball)
Elizabeth Walker (Netball)
Lisa Panes (Netball)
Lois Rideout (Netball)
Megan Bows (Netball)
Mia Ritchie (Netball)
Neala Brennan (Netball)
Sophie Mead (Netball)
Rupinder Hunjan (PUB Sports)
Laura Pascoe (Riding)
Portia Mckay Forbes (Riding)
Hannah Gavin (Rowing)
Amy Tidmarsh (Rugby)
Joseph Charles Ellyatt (Rugby)
Katerina Josephides (Rugby)
Katie Mason (Rugby)
Matthew Keyte (Rugby)
Rebecca Harrison (Rugby)
Rhys Davies (Rugby)
Andrew Smith (Squash)
Caroline Rosamond (Tennis)
Marianne Lancaster (Tennis)
Steffi Colyer (Tennis)
Elizabeth Walker (Water polo)
Emma Vincent (Water polo)
Holly Smith (Water polo)
Rachel Ganly (Water polo)
Rebecca Macenri (Water polo)
Samuel Heard (Water polo)