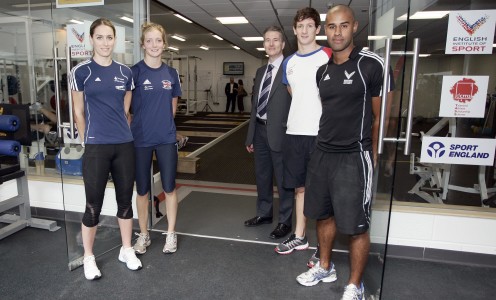 OLYMPIC and Paralympic hopefuls training in Bath and the South West have been given a boost in their preparations for 2012 with the opening of a new £100,000 Performance Gym dedicated to the requirements of world class athletes at the University of Bath.
The new gym has been developed and funded by a partnership between the University, the English Institute of Sport (EIS), Sport England, UK Sport and TASS, and will provide priority access to top quality facilities for aspiring Olympians and Paralympians.
The new gym is in an extension to the existing Team Bath Gym, which has just been fully refurbished. The new Performance Gym will provide an environment that has been specifically designed for the needs of world class athletes to work on their strength and conditioning.
The new gym was officially opened today by Professor Kevin Edge, Deputy Vice-Chancellor of the University of Bath, and Bath-based athletes, Amy Williams (Bob Skeleton), Michael Jamieson (Swimming), Freyja Prentice (Modern Pentathlon). Amy is a University of Bath graduate, while Michael is currently studying Sports Performance at the University and Freyja combines training with studying for a Biology degree.
"The new gym will be a significant improvement on the previous set-up and I am sure it will enhance our strength and conditioning work," said 100m and 200m breaststroke swimmer, Michael Jamieson. "It will be great to work in a gym that has been purpose built for the needs of high performance athletes and I am sure it will be inspiring for all of us to train in an environment where we will be surrounded by elite athletes from other sports."
The Performance Gym is focused on strength and power development and will be used by world class athletes from a range of Olympic, Paralympic and non-Olympic sports including: Modern Pentathlon, Swimming, Bob Skeleton, Bobsleigh, Beach Volleyball, Tennis and Netball.
The gym has been specifically designed to meet the needs of individuals and groups of athletes on world class performance programmes and its features include:
· An integrated testing platform to give in depth physical analysis of athletes
· A video feedback system to assist in coaching of athletes
· An integrated system allowing real time feedback to athletes on strength and power outputs
Professor Kevin Edge, the University's Deputy Vice-Chancellor, University of Bath, said: "The new Performance Gym is the latest addition to the impressive array of sports facilities at the University of Bath. While the vast majority of our sports facilities are open to all, the Performance Gym is specifically for use by high performance athletes training at the University. It is a valuable additional facility for athletes training to compete at London 2012 and beyond. I would like to thank our partners in this project for making it possible."
Chris McLeod, Strength and Conditioning Coach from the EIS, who works with many of the world class athletes based in Bath, explained: "Strength and Power development is critically important to many of the sports we work with in Bath.
"Our aim is to be fully integrated with the sports we work with and it will be a major boost to the athletes and coaches to know they can get access to the gym, at a time that fits into their overall training programme. It will create a positive performance environment for strength and conditioning and contribute to enhanced performances."
Sport England Director of Property, Charles Johnston, said: "Our investment in this new facility is helping give our home grown athletes the best chance of success at next year's Olympic and Paralympic Games. The facility will also help grow and nurture the next generation of young talented athletes, ensuring a lasting legacy from the London 2012 Games."
Paul Buxton, UK Sport's Performance Advisor who leads on matters related to high performance facilities, said: "The opening of a dedicated high performance gym at the University of Bath ensures World Class athletes training on campus can do so without compromise.
"The project has been supported by the partnership between Sport England and UK Sport which addresses improvements to high performance facilities, based on feedback from sports through their Mission 2012 submissions. We are pleased to see this project come to fruition, and would like to acknowledge the partnership between the University of Bath and the English Institute of Sport in working together to realise this important improvement to the sports' training environment."