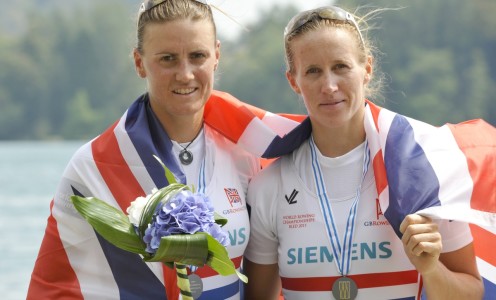 University of Bath graduate Heather Stanning won a silver medal at the World Rowing Championships alongside former Bath PE teacher Helen Glover.
The duo took silver for Great Britain in the women's pair after being edged out in the final by New Zealand by just 0.08 seconds.
"I knew the Kiwis would come back on us but I didn't know how close it was at the end," said Stanning, who graduated with a degree in Sports Technology in 2007 and along with Glover is a product of the Siemens-sponsored World Class START programme in Bath to identify and develop rowing talent.
Vicky Thornley, who used to train at the University of Bath, picked up bronze in the women's eight.
"It feels a bit like a dream at the moment," she said after her success at Bled in Slovenia. "The race just went so quickly, we're just so happy."
There were also sixth lace finishes for University of Bath graduates Adam Freeman-Pask and Marcus Bateman.
Freeman-Pask, who graduated from the University of Bath in 2006 with Natural Science degree, reached the final of the lightweight men's single scull, while Marcus Bateman, a Sports Technology graduate from the University, finished sixth in the men's double scull after suffering from overnight sickness before his final.
The GB rowing team, which is sponsored by Siemens and supported by lottery funding, won seven golds, three silvers and four bronzes to top the medal table with a total of fourteen medals.
Photo: Intersport Images/GB Rowing Team