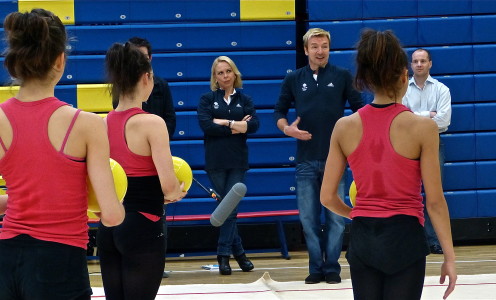 Jayne Torvill and Christopher Dean dropped into the University of Bath's Sports Training Village on Saturday to provide a significant boost for The University of Bath-based senior rhythmic gymnastics group who are seeking London Games qualification.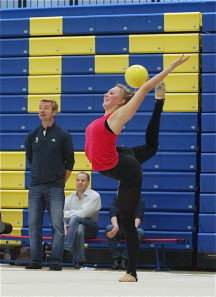 The ice dance stars, winners of Olympic gold in 1984 and bronze in 1994, came to Bath courtesy of a TeamGB scheme designed to inspire potential Olympians.
Torvill and Dean's "Bolero" routine at the Sarajevo Games of 1984 attracted 12 perfect 6.0 scores from the judges and was watched by a then record UK TV audience of more than 24 million.
On Saturday the duo passed on that experience to the young gymnasts, providing them with tips on how to maximise their performance for the audience and the judges.  They were clearly impressed by some of the routines they saw from the University-based squad who are coached by Sarah Moon.
Moon said:  "Today has been absolutely fantastic; it has been a real boost to the team to have Team GB Ambassadors and Olympic Champions Jayne and Chris here mentoring today. It has been a real treat. They are truly inspirational British role models".
Gymnast Jade Faulkner said:  "Having Jayne and Chris here today has been really good. They have been helping with the performance element of our routines – looking at the little things, like how to walk onto the floor, because that it how the judges and audience are going to see the routine for the first time. So hopefully this will really help with the overall impression of our routine.
Rachel Smith added:  "It has been really good fun. They (Jayne and Chris) have given us some ideas that we can really utilize in our routines, and hopefully we can put them into practice soon.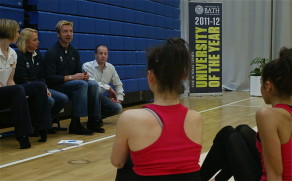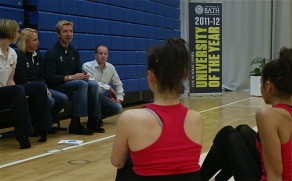 "I was really nervous to meet Jayne and Chris, I didn't expect to be, but I was. Our sports have similarities and knowing that they have been through what we are now, they are really inspirational role models.
"They have history, and we want to make history as a team as well".
The squad know that their next big hurdle is to perform well at the test event in January ­ another milestone in the process of trying to qualify for the home Olympic Games.
Lynne Hutchison said: "It was a really great experience; especially because they [Torvill and Dean] have things in common with our sport and hopefully that will give us a boost when we train and perform our routines.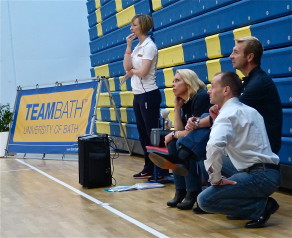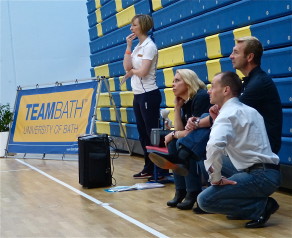 "There is a lot of pressure on our performance at the test event, it is the big one for us, and to be able qualify for Team GB and to compete at a home Olympic will be amazing, we will be making history".
Christopher Dean was clearly enthused by what he saw on Saturday.  He talked with the squad about how to give their routines "soul" and how to engage with the audience and through them with the judges.
"When you go out and perform you must always look like you are enjoying it. Everyone then immediately warms to you", he told the girls.
"It's all in the eyes. You must make it look exciting and bring soul into it".
Afterwards he said:  "Rhythmic gymnastics is pretty new to me, I had obviously watched it.  I have always been fascinated by it, to me it is working with props, so seeing the girls today go through the routines, it is amazing to watch.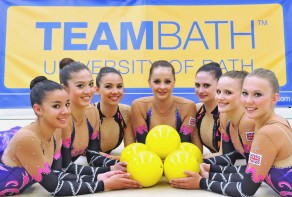 "I think you really get the sense of teamwork, it isn't an individual sport. But it is how they work and the consequences of a mistake are pretty big; if the ball, hoop or ribbon flies away, you've lost it and it is a tragic moment as it can lose you a competition. The amount of practice you need to put in to be that consistent, throwing something and manipulating it in the same way every time, that requires a lot of skill.
"If we can add anything it is to the performance quality and musicality in what they are doing. What I have been trying to get over to them is what the audience feels. If you win the audience then hopefully you can win the judges over. There is a sense of warming to something that you are going to watch, feeling confident".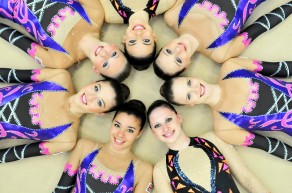 Jayne Torvill immediately saw the similarities between ice-skating and this strand of gymnastics:  "I have seen rhythmic gymnastics on the television a couple of times, but not often enough as is the case with most of sports. It is fascinating because there is definitely a cross over with skating, it is balletic and athletic, and you are doing routines to music.
We have worked with hoops and various props on the ice, and they have a mind of their own, when there are five or six people to coordinate it requires a lot of teamwork.
"At this point the girls already had their routine choreographed and there were certain elements that Chris and I are just beginning to understand, some of the technical things that they need to include, what they get their points and scores for. I think that what we can see is that their visual is a big part of their performance and their focus as well.
The girls are very driven and they are doing it for the love of their sport which is great to see these days".
The seven-strong training group are aiming to become the first British team to compete in the group competition at an Olympic Games.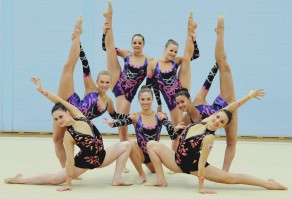 They faced a key challenge two weekends ago when they had to exceed a set mark in their two performances at the National Group Championships in Cardiff to earn a place at the test event at the North Greenwich Arena in January.
They have to produce another strong performance at the London 2012 test event to keep their Olympic dream alive.
The seven-strong group are entirely self-funded and have been training full-time at Team Bath since July with the aim of qualifying for the Games. They have to achieve a series of selection and performance targets to have a chance of securing a host nation place to compete at 2012.
Their next challenge is at the London Prepares Series test event at the North Greenwich Arena from 16 to 18 January, when they will compete alongside world champions Italy as well as the teams finishing in seventh to 12th places at September's World Championships ­ Ukraine, Switzerland, France, Israel, Greece and Spain ­ who are also bidding to qualify for 2012.
The group had to achieve a score of 41.2 to qualify for the test event and they did it in style at the National Group Championships scoring 43.4.
The group features seven athletes – Annie Bartlett, Francesca Fox, Georgina Cassar, Jade Faulkner, Louisa Pouli, Lynne Hutchison and Rachel Smith.
They have been coached by Sarah Moon since January and they made the decision to come together to train full-time in Bath from July to give them the very best chance of achieving the standard they need to to get to 2012.
Sarah said: "I'm really proud of the squad. They've made a big commitment and what they've achieved to get this far is fantastic. We're really looking forward to the test event in January, it will be an amazing experience."
They return to action at a competition in Zaragoza in Spain from 9 to 11 December when they will face many of the teams that will compete in the test event.
You can find out more about the group from their GB Rhythmic Group website.
The University of Bath is The Sunday Times "University of the Year" 2011/2012.
For further information about sport at the University of Bath please contact the Team Bath press office at Matchtight Ltd on 01225 383518 or 07831 755351.
Team Bath ­ be a part of it