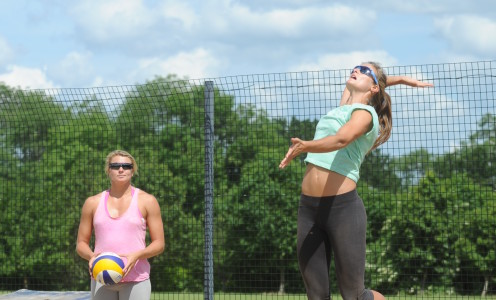 Team GB beach volleyballers Shauna Mullin and Zara Dampney produced a battling performance to win their first ever Olympic match, coming back from a set down to beat Canada at Horse Guards Parade tonight (Sunday).
The pair, whose British training base is a the University of Bath, made sure of a winning start to their London 2012 campaign by triumphing a tense deciding set 15-13.
The more experienced Canadian pairing of Annie Martin and Marie-Andree Lessard had taken the opening set 21-17, but the British pair battled back to level the contest by taking the second 21-14.
Cheered on to by the home crowd, Zara converted their second match point to take the spoils. Shauna and Zara play their second match of the Games against Italy's Greta Cicolari and Marta Menegatti on Tuesday (31 July) in a game scheduled to get underway at 17.30.
"It's absolutely amazing win," said Shauna. "To bring home a win for GB was amazing. The crowd just kept us going. It would have been an amazing occasion whether we won or lost."
Zara added: "We were a little bit nervous at the start and needed to keep building after the first set. We just needed to remain calm and then we won the second set and took it into the third set."
Also on day two of London 2012, Egyptian badminton player Hadia Hosny El Said, who is studying for an MSc in Medical Biosciences at the University of Bath, lost her opening women's singles match in group I.
Hadia opened her account at her second Olympic Games against Ireland's Chloe Magee – who is 69 places higher than Hadia in the world rankings. The opening game was closely contested, but the Irish player eventually closed out the game 21-17. Magee pressed home her advantage in the second game, winning 21-6 to take the match.
Hadia faces her second contest in pool I tomorrow (Monday) when she takes on France's number 16 seed Hongyan Pi at 20.52.
Siobahn-Marie O'Connor made her Olympic debut at the tender age of 16 this morning. She clocked a time of 1:08.32 – the second fastest of her career – to come sixth in her 100m breaststroke heat. But her time was 21st fastest overall so she missed out on a place in the semis. She now hopes she has earned a place in the 4x100m medley relay squad.
Adrian Moorhouse, a man who knows a thing or two about breaststroke swimming and who is working for the BBC at the Games, said: "I've been looking forward to seeing her swim all week. She is a really big talent for the future. She's performed well and that's a good time."
Siobahn said: "I wanted to just see how fast I could go and see if I could post a time for the relay so hopefully I've done that.
"At the moment it's been so fun and such an amazing experience so far. Maybe when I look back on it, it will feel a bit more real. It's been the best experience ever and it's only day two."
Chris Walker-Hebborn's 100m backstroke time of 54.78 put him third in his heat, but that wasn't enough for him to progress to the semis as he was 20th overall. He returns to action on Wednesday (1 August) for his main event, the 200m backstroke.
Both Siobahn and Chris train with the British Swimming Bath Intensive Training Centre at the University of Bath.
In rowing, Victoria Thornley, who used to train at the University, was at stroke for the GB women's eight in this morning's heats. The GB boat came home third behind an impressive USA boat and Australia in their heat at Eton Dorney. They go into battle again in the repechage on Tuesday with a place in Thursday's final at stake.
Team Bath judo player Emmanuel Nartey makes a piece of history tomorrow (Monday) when he becomes the first Ghanaian judo player to compete in an Olympic Games.
Emmanuel faces Holland's Dex Elmont in the round of 32 in the under-73kg class at 10.40. There will be plenty of familiar faces with Sled Dowabobo of Nauru and Kyle Maxwell of Barbados – who both held their preparation camps at Team Bath – competing in the same weight division.
For the latest information on schedules and results see http://www.teambath.com/sport/olympic-paralympic/schedules-results/
For further information please contact the Team Bath press office at Matchtight Ltd on 01225 383518 or by email at press@matchtight.co.uk
You can also find out more about Team Bath at www.teambath.com , follow us on Facebook at www.facebook.com/teambath or on Twitter at https://twitter.com/#!/teambath