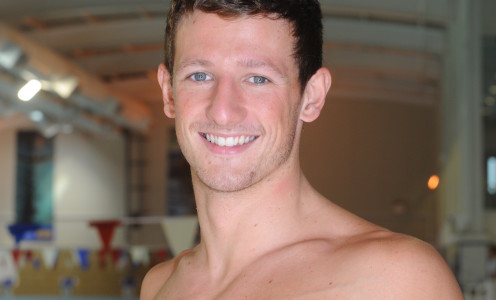 Michael Jamieson rounded off a terrific day for University of Bath sport by winning 200m breaststroke silver at the London 2012 Olympics tonight (Wednesday).
The Sports Performance student's performance came just hours after Sports Technology graduate Heather Stanning and her rowing partner Helen Glover struck gold in the women's pair this morning.
Michael set another British record of 2:07.43 tonight – his third GB record in three swims over the distance at the Olympics. Hungary's Daniel Gyurta had to set a world record of 2:07.28 to edge Michael off the top spot on the podium.
Chemical Engineering student Andrew Willis, who like Michael was making his Olympic debut at London 2012, came home eighth in 2:09.44. He also has an English record to his credit from the semis.
The pair are both coached by David McNulty at the British Swimming Bath Intensive Training Centre at the University of Bath
Michael said: "It's so much easier to swim when you've got a bit of confidence. I've had so many messages of support, it's been unbelievable, I was desperate to get on the podium tonight to repay the support.
"I've gone over this in my head for so many years, I'm delighted."
He also paid tribute to Andrew Willis, saying, "In a couple of years he's definitely going to be the man to beat."
Andrew (below right) said: "It was a tough race. I gave it my best and that's all you can do. Michael deserved it and I'm really pleased for him."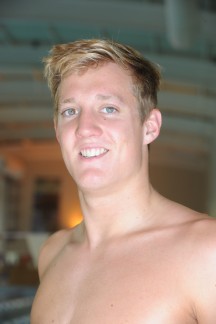 The pair had both been in impressive form in yesterday's heats and semis, with Michael twice breaking his British record and Andrew equalling and then smashing his own English record.
They were cheered on by a crowd of athletes, staff and facilities users who watched the final on the video wall at the pair's  Sports Training Village training base.
It rounded off a fantastic day for sport at the University of Bath after Heather Stanning and Helen Glover's gold medal winning performance in the rowing,
They became the first GB women's rowing crew to win an Olympic gold medal and also the first Britons at London 2012 to win Olympic gold. The two learned to row on the GB Rowing Team's Start programme at the University of Bath.
"It wasn't until we crossed the line that I realised just how big the expectations were," said Helen. "Hopefully it' s a sign of things to come across Team GB.  Let's go for it, let's make it our Games. I'd also like to think this will inspire more people to be active and enjoy sport."
For a full round-up of the race and further reaction please go to:
It's gold and a piece of history for Heather and Helen
There disappointment for Stacey Tadd in the women's 200m breaststroke heats and Chris Walker-Hebborn in the men's 200m backstroke as neither progressed to the semis.
Tomorrow (Thursday) Zara Dampen and Shauna Mullin play their last group match in the beach volleyball and are aiming for a place in the knockout phases of the competition.  They face Russia's Ekaterina Khomyakova and Evgeniya Ukolova.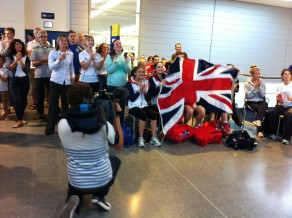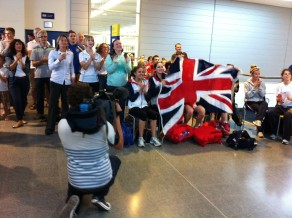 University of Bath Sports Performance graduate Gemma Gibbons takes to the judo mat at her first Olympic Games in the women's under-78kg class competition.
And in fencing, Mathematics and Computing graduate Natalia Sheppard returns to action in the women's team foil.
Another rower with Bath links aims to follow in the footsteps of Heather Stanning and Helen Glover – Victoria Thornley trained in the same group and goes in the women's eight final at Eton Dorney tomorrow.
For our full schedule and results, see our Olympic and Paralympic Schedules and Results web page.
Follow us on Twitter at twitter.com/teambath for the latest updates from the Games.
For further information please contact the Team Bath press office at Matchtight Ltd on 01225 383518 or by email at press@matchtight.co.uk
You can also find out more about Team Bath at www.teambath.com , follow us on Facebook at www.facebook.com/teambath or on Twitter at twitter.com/teambath