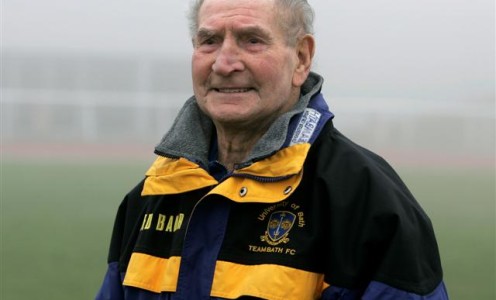 University of Bath staff and alumni joined friends and family in celebrating the life of Ivor Powell MBE at  a tribute event  at the Sports Training Village this afternoon (Tuesday).
Ivor, whose illustrious footballing career saw him play for Wales, Queens Park Rangers, Blackpool and Aston Villa, passed away at the age of 96 after a short illness on 5 November.
A funeral service was held at Haycombe Crematorium in Bath today and was followed by a tribute event at the University, where Ivor worked as a coach for 37 years before retiring in 2010.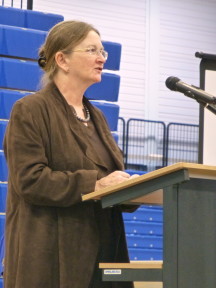 Professor Dame Glynis Breakwell, Vice-Chancellor of the University of Bath, paid tribute to Ivor. She said: "Ivor was all about determination and success, and doing it in a way which was of the finest quality.
"Ivor leaves us with many, many happy memories and his legacy lives on through the Ivor Powell Award for Coaching Excellence, which is presented at the annual Blues Awards, and also through the Ivor Powell Sports Scholarship Fund."
Stephen Baddeley, Director of Sport at the University, added: "Ivor was a truly remarkable man and was held in great regard and tremendous affection at the University. He was an inspirational individual with real energy and zest for life."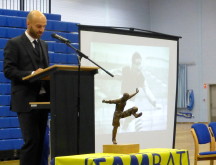 Paul Tisdale, former Head Football Coach at the University and now Manager at Exeter City, shared some of his memories of Ivor with the audience at the tribute event at the Sports Training Village.
"There's a hole in my life since Ivor's passing. I worked alongside Ivor for seven years as a football coach here at the University," he said. "Little did I know the influence he would have on helping me form my coaching philosophies and work ethics. Ivor could always lend the most pertinent advice."
An array of former University of Bath footballers who were coached by Ivor were among those celebrating his life. They included Mike Wisson, a Structural Engineering graduate who featured in the FA Cup campaign in 2002, when the University of Bath's team became the first university side to reach the first round proper of the world's most famous club football competition for 122 years. He said: "Ivor wanted people to give 100 per cent and use all of their natural abilities."
Matt Taylor, another former Team Bath footballer, now playing for Charlton Athletic, added: "Ivor had an effect on every one he worked with. We will never forget what he did for every one one of us."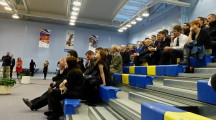 Ged Roddy, former Director of Sport at the University, and Greg Sharp, Sports Development Manager at the University, spoke at the funeral service, along with Ivor's son, Bill Powell, and granddaughter Mandie Snary.
After retiring from playing Ivor started a career in football management and coaching that took him to Port Vale, Carlisle United, Leeds United, Bradford City and Bath City, as well as Greek side PAOK, before he took up a coaching role at the University in 1973.
In 2004 he was inducted to the Welsh Sporting Hall of Fame and in 2006 his role as the world's oldest football coach was recognised as a Guinness World Record. He was made an MBE in 2008.
If you would like to make a donation to the Ivor Powell Sports Scholarship Fund in Ivor's memory, you can do so here.
You can find out more about Team Bath on our website teambath.com
You can also follow Team Bath on Twitter at twitter.com/teambath or facebook.com/teambath
For further information please contact the Team Bath press office at Matchtight Ltd on 01225 383518.