Team Bath MCTA Tennis Academy players Samantha Murray and Lisa Whybourn are set to make their debuts in the Wimbledon main draw after being handed wildcards for The Championships today (Wednesday).
They are joined by another Team Bath MCTA player, Mel South, who returns to play at Wimbledon in the women's doubles main draw.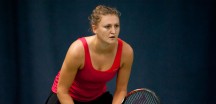 Murray has been given a wildcard to play in both the singles and the women's doubles at this year's Wimbledon. She partners Jade Windley in the women's doubles.
Murray, 25, and ranked 240 in the world at singles, has played in Wimbledon qualifying but not in a main draw – and she said she can't wait.
"It's my first Grand Slam main draw and it's Wimbledon too, so I'm definitely excited. It's going to be a great experience," she said. "I'm going to try to win a few rounds. I've played people at that level before at other tournaments, so I know I can beat them.
"I found out I had a wildcard last night. I'll be getting some more practice in on grass before Wimbledon.  I'm playing at Nottingham this week – I won my first round singles match this morning – then it'll be down to Eastbourne and Wimbledon is the week after that, so it's pretty close now."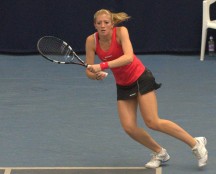 Lisa Whybourn and partner Nicola Slater have a wildcard into the main draw of the women doubles. Whybourn, ranked 262 in the world, just missed out having a high enough ranking for a wildcard for the singles main draw and must now battle through qualifying.
"I'm a bit disappointed to just miss the cut for the singles, but I've virtually halved my ranking in the last year, so it was going to be a tough ask. I usually play well in qualifying, so I'll just have to do it the hard way," she said.
"I'm really happy and exciting to be playing with Nicola in the doubles main draw. We'll get some practice in before the start of Wimbledon and I think we'll do well," she added.
Mel South and her partner, Tara Moore, have a wildcard into the women's doubles draw. South has experienced previous Wimbledon campaigns.
Barry Scollo, Director of the Team Bath MCTA Tennis Academy, said: "It's great to have a player playing at a senior Grand Slam event. For the Team Bath MCTA programme to have players ranked in and around the top-250 in the world is just fantastic.
"Samantha, Lisa and Mel are great to have as part of the tennis programme at the University of Bath," he added. "They are excellent role models for the younger players at the academy."
In the men's competition, former Team Bath MCTA Tennis Academy player Sean Thornley has a wildcard for the men's doubles partnering David Rice.
Murray and Whybourn are both currently playing at the $50,000 Aegon Pro-Series Nottingham Challenge.
Both won their opening rounds of the women's singles today, with Murray despatching Stephanie Vogt of Liechtenstein 6-0 7-6 (2). Whybourn ran out 6-4 6-3 winner over Thailand's Nudnida Luangnam.
Murray, Whybourn and South train with the Team Bath MCTA Tennis Academy at the University of Bath Sports Training Village.
The 2013 Wimbledon Championships run from 24 June to 17 July, with qualifying at the Bank of England Sports Ground at Roehampton from 17 to 20 June.
You can find out more about Team Bath on our website teambath.com
You can also follow Team Bath on Twitter at twitter.com/teambath or facebook.com/teambath
For further information please contact the Team Bath press office at Matchtight Ltd on 01225 383518 or 07765 071683.